Roy Halladay Complete Game Trivia
Roy Halladay set himself up for his second complete game of the season this afternoon by feeding the hapless Mets a steady diet of unhittable strikes.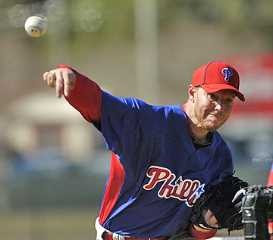 The result was quick outs and quick innings, allowing Halladay to collect his second complete game in six starts this season, his 11th in 39 starts with the Phillies and the 60th of his career.
Now the aforementioned Roy Halladay Complete Game Trivia:
Since the beginning of the 2007 season, Halladay had racked up 36 complete games.
During that same time period, who is second in complete games and how many CGs do they have?
Sure it'll be difficult to know an exact name/number, so take your best guess...
- Posted using BlogPress from my iPhone