Spring Thoughts from Gate B13 #Phillies
A random sampling of Phillies things I've been thinking about in eve of pitchers and catchers reporting to camp:
-- Chase Utley is on facebook. facebook.com/chaseutley
Is this groundbreaking news or something you NEED to know before spring training? No.
But it's surely worth noting. In the age of social media, many celebrities have used twitter or facebook to connect with fans. It's good business, and the celebrity can control the message/interaction, so it's good for them.
The fact that this celebrity happens to be Chase Utley is somewhat surprising. Utley isn't big on mindless chit chat with outsiders (which is kind of what social media is about, right? ;)
But kudos to Chase, the most popular Phillies player, for reaching out and offering his fans a glimpse into his world. Utley posts photos and other stuff on his facebook page.
One of the other Phils to use social media is Cole Hamels. He has a twitter account for his foundation - twitter.com/thehamels - where he recently told fans he and his family DROVE to Clearwater from Philly.
-- Who is going to play RF??
This is the most popular question/concern I hear. Like I just checked two big duffle bags the airport, and the USAir guy was more concerned over who would replace Jayson Werth than he was with the weight of my bags.
My response? They're going to be fine.
First off, Ben Francisco was a very capable starting outfielder with Cleveland in '08. They're not asking him to be an All-Star; they just need him to be productive, which shouldn't be a problem with more regular at-bats/playing time.
Second point: remember all the excitement and hype when Domonic Brown got called up in July? Remember when he crushed a long double in his first MLB at-bat?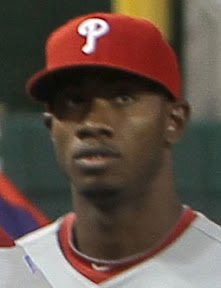 This kid has SERIOUS talent. When he gets regular at-bats, he'll show off the talent that's made him fall in the top five of every major Top 50 or Top 100 prospect list.
Will he be ready to show that talent on Opening Day? That'll be on of the bigger story lines to follow when the Grapefruit League schedule gets underway in two weeks.
But Brown will be ready for regular duty at some point this year (sooner, rather than later) and the Phils won't miss Werth as much as you might think.
-- Can someone give Chad Durbin a job?
It's hard to believe, but the durable, often-dependable reliever is still a free agent. I read over at foxsports.com (haven't figured how to copy links while blogging from phone) that Durbin wants to pitch for a contender and presumably has offers from non-contenders.
Here's a thought - and purely just me speculating, nothing more:
Durbin's top choice is to return to the Phillies. The Phils would love to have him back.
The sticking point is the budget. Durbin made just over $2 million last year; he wants a raise, and a multi-year deal.
Since he's still unsigned, I can't think the following scenario is too crazy: the Phils trade Joe Blanton (they have shopped him around since signing Cliff Lee) and use some of the cash they saved in trading him to bring back Durbin.
Again, just a thought.
- Posted using BlogPress from my iPhone