Polanco doesn't believe knee injury is serious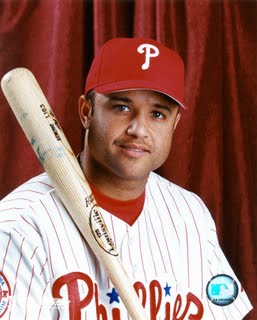 If you want an argument that spring training is too long, a nice piece of evidence rested near the mound in the third inning of the Phillies-Pirates game in Bradenton this afternoon.
New Phillies third baseman
Placido Polanco
ran onto the mound in an attempt to snare an infield fly hit by Delwyn Young. But he lost the ball in the sun and fell to the ground and landed awkwardly on his right knee.
Polanco needed help from two Phillies trainers to walk off the field.
But this might (and remember the word "might") be not as serious as it looked. Polanco was encouraged that it wasn't serious.
"It's nothing bad," Polanco said. "No DL situation or anything. It's probably day to day... It's just the back of the knee. It's probably hyperextended a little bit. Irritated."
The converted second baseman was checked out by a Pirates team doctor on location. He did not have an MRI.
Polly thinks Tuesday will be a big day, to see how sore it is a day after the injury.
"When it first happens you really get scared," he said. "You don't know what's happening. It doesn't feel right. But now that the doctor took a look at it, it's nothing big at all. ... It's getting better now already after the icing and all that."
With Thursday's off-day, there is a chance Polanco could be ready to play Friday night in Clearwater. But expect the Phillies to proceed with caution, since the Grapefruit League games don't matter and the players' health rules supreme.
"Tomorrow is a big day to see how it feels, how sore it is," Polanco said. "Probably two or three days because we've got a day off coming (Thursday)."