Mathieson, Aumont & Gillies among first cuts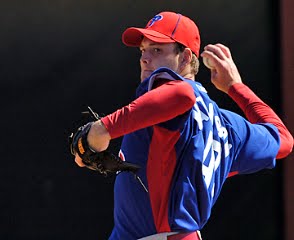 It's one of the passages of spring, a sign that the major league season is right around the corner: as you walked into the big league clubhouse, lockers were being emptied, clothes and equipment were tossed on the floor and boxes were being prepared for a move.
The Phillies cut 14 players from major league camp today; all are reporting to minor league camp, just a short walk across the Carpenter Complex.
The guys moving down: pitchers
Scott Mathieson
, Phillippe Aumont, Drew Naylor, Joe Savery, Bill White, Yohan Flande, Jesus Sanchez and J.C. Ramirez; catchers Tuffy Gosewich, Kevin Nelson and John Suomi; outfielders Tyson Gillies and Quintin Berry; shortstop Freddy Galvis.
Mathieson was probably the most surprising, only because of his big league experience and big arm. But he pitched in only 42 1/3 innings last year in rehabbing from his second Tommy John surgery.
"Scott has to pitch. He got the chance to pitch a little last year in a more competitive situation, and then through the (Arizona Fall League), but he's a guy who just has to pitch, it's been a long time," GM Ruben Amaro Jr. said. "He has to refine some of his stuff. I think he's got over the hump physically, I just think he has to get the point where he has to get reps and pithicng time. He's a guy we didn't feel was going to be ready to go in April (for us) and be refined enough in his secondary stuff to be able to compete for a job at the big league level. He's just a guy who needs to go out there and pitch."