Halladay looks like Mr. Perfect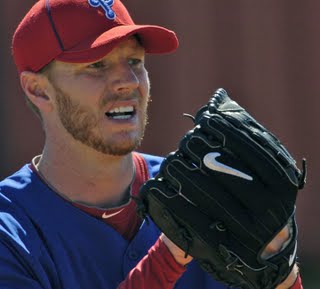 Roy Halladay
's spring debut with the Philadelphia Phillies did nothing to kill the buzz that engulfed the City of Brotherly love when the team dealt for the former Cy Young Award winner three months ago.
Halladay got the Grapefruit League schedule under way with two scoreless innings against the New York Yankees Thursday afternoon at Bright House Field. The 32-year-old Halladay threw a pair of hitless innings while striking out three and walking none.
Halladay allowed just on base runner in the outing. Jamie Hoffmann, playing first base after Nick Johnson was scratched with a back ailment, reached on an error by Philadelphia third baseman Placido Polanco with one out in the first.
Halladay struck out the next batter, Jorge Posada, before getting Robinson Cano out on a fly ball to end the inning. Halladay, who had spent his first 12 big league seasons with Toronto, struck out Nick Swisher and Randy Winn to begin a 1-2-3 inning.
Kyle Kendrick took over for Halladay to begin the third inning.