Come to spring training, help those in need in Haiti
OK, we had a little fun today with the rain... the blame it on the rain... and some other stuff here on the blog and over at
twitter
.
So let's pass along some information that's a little more serious and a lot more important. I received this email and wanted to make sure all Phillies fans were aware.
Thanks for reading (and helping those in need)!
The Moyer Foundation
is holding a donation drive to get supplies to earthquake-ravaged Haiti. (The Moyer Foundation, in case you didn't know, is on both
facebook
and
twitter
).
Here are the details, direct from the folks running the drive: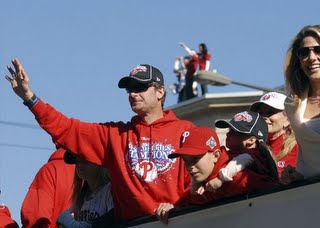 SEATTLE, WA – The Moyer Foundation (www.MoyerFoundation.org), founded by Philadelphia Phillies' pitcher
Jamie Moyer
and his wife, Karen, today announced that the organization will hold a donation drive, in partnership with the Phillies, during Spring Training to collect and deliver much needed supplies for the ongoing relief efforts in Haiti . Fans are encouraged to bring donations to Bright House Field in Clearwater , FL from 10:00 a.m. - 1:00 p.m. on March 16th and 17th, and 4:00 p.m. - 7:00 p.m. on March 19th.
In January, The Moyer Foundation created the "Helping Hearts Campaign," which supported emergency relief efforts specifically targeted to helping child victims of the devastating earthquake in Haiti . The organization pledged to match up to $50,000 in donations, which they accomplished this month. Through this campaign, the Foundation will contribute more than $100,000 to their partners on the ground, providing ongoing relief efforts in Haiti .
The drop-off shipping containers will be located near the fountain at the main gate entrance to the Bright House Field. The container will then be shipped directly to The Moyer Foundation's partners on the ground in Haiti . Certain items that are needed for the collection are clothing, school supplies, personal hygiene items, tents, furniture for an office or home, toys, dolls, etc.
More than two million children have been affected already by this tragedy. In keeping with the organization's mission to help children in distress, The Moyer Foundation created a partnership with Free the Children to help fund emergency relief and medical supplies for providing immediate, effective, primary health care and support to the hardest-hit communities where so many children are at risk.