Amaro: We're better than we were in '09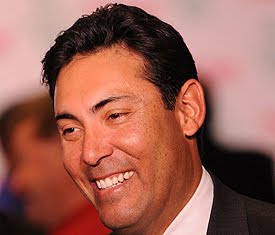 In a few hours, that rascally, famous February rodent Punxsutawney Phil will emerge from his hole and let us know what he thinks about Mother Nature's plan for what's left of the official winter season.
With spring training on the horizon -- the first workout is two weeks from Thursday -- Phillies GM
Ruben Amaro Jr.
entered a conference room at the Crowne Plaza in Cherry Hill, NJ and gave his own forecast.
The 2010 Phillies are better than Version09.
Amaro spoke to reporters before the Phillies were honored as the "Team of the Year" at the 106th edition of the Philadelphia Sportswriters Association's annual banquet. Here's a little of what the GM of the city's top team said (for more, check out the Daily Times Tuesday -- on the newsstand and at delcotimes.com).
"I will tell you think," Amaro said. "I think our rotation is better, I think our overall club on the field is better. We have more experience, we have more All-Star players playing every day. I think our bench is better. Whether we stay healthy and we play good baseball, that's kind of up to the players at this stage of the game and up to the baseball gods. I think overall our club, I believe our club is better going into spring training than it was last year."