Ruiz passes physical, three-year, $8.85 deal done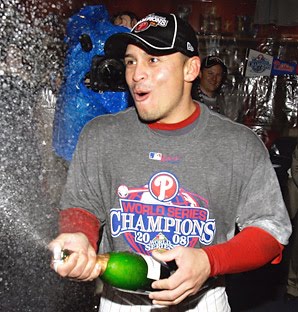 The Phillies are about to hold their third press conference in the last five days to announce a three-year contract with one of their core players.
Less than a week after hammering out similar deals with Joe Blanton and Shane Victorino, the Phils reached the finish line on a three-year, $8.85 million deal with catcher
Carlos "Chooch" Ruiz
.
The contract, which includes a club option for a fourth season, buys out the remaining three arbitration years Ruiz had.
The 31-year-old Ruiz hit .255 last season with a career-high nine home runs and 43 RBI in 107 games. Behind the plate, he threw out 15 of 76 potential basestealers (19.7%). Ruiz batted a team-best .341 during the 2009 playoffs.
Ruiz made $475,000 in 2009.