Done deal: Phils to introduce Mr. Halladay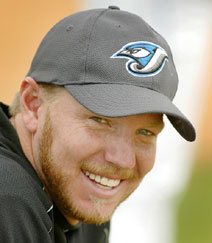 The deal is done. Seriously. It's over. You can go home now.
Just got word that the four-team, baseball bonanza blockbuster that sends one Cy Young winner to Philadelphia (
Roy Halladay
, in case you hadn't heard) and another to Seattle (Cliff Lee) with prospects heading to Toronto and Oakland.
It took about 48 hours since all teams agreed on the structure of the deal, but, as they say, good things come to those who wait. Phils fans, you have the best pitcher in baseball on your team - and not just for 2010, but for at least the next four years.
Trade winner? The Phillies.
They're introducing their new ace at 5 p.m. today at Citizens Bank Park.
He'll likely make his debut on opening day, Monday April 5, at Washington. And, if you're looking for that last-minute Christmas gift, or are returning Cliff Lee gear, here's a tip: Halladay will wear No.34.
(hey, you can just change the name on the jersey from Lee to Halladay. how convenient.)