Honoring HK: The Best Moment of the 2009 Division Celebration
The Phillies wear an "HK" on the front of their jerseys. It's over the heart.
We all know what it stands for. No one has ever forgot Harry Kalas, nor is it likely anyone will forget the 'Voice of the Phillies' any time soon.
But in the midst of celebrating their third straight NL East crown, the Phils remembered Kalas. They honored the man who passed away in April.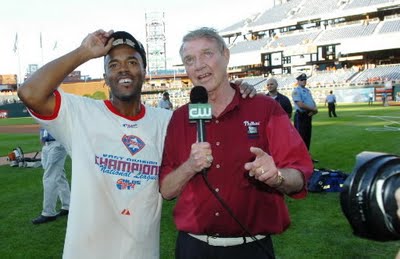 Shane Victorino and Jimmy Rollins lead the entire team to Ashburn Alley, where each player, one by one, touched the Harry Kalas plaque on the Wall of Fame.
"Harry would be down here partying, too. He would have been down here getting soaked," Rollins said. "You know Harry wouldn't miss a party, so we couldn't let him miss this one."
Rollins declined to take over Kalas' duties in singing 'High Hopes.' "Not like Harry," Rollins said, when reminded he has his own musical background. "Not like Harry."
But Rollins promised to continue to pay tribute to Harry Kalas if the Phils can convert on their goal of repeating last year's success. Everywhere they have gone since Kalas' death, the team has brought the broadcaster's baby blue sport coat and white shoes with them.
"If we win the World Series, I'm walking around with (Harry Kalas') jacket and shoes. That's my next hope, that I can put on the jacket the shoes so H.K. doesn't miss a parade," Rollins said. "We get to Broad Street again, you'll see H.K.'s jacket and shoes on my back and feet. There's no doubt about it. We go down Broad Street, believe me, I will be rocking it."