Pedro's pitching line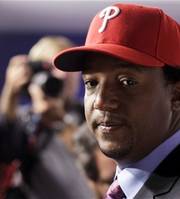 Pedro Martinez
's work is through in Allentown: 5 innings pitched, three hits, five runs (four earned) while striking out four and walking three. He also allowed a solo home run to the first batter of the game.
Martinez threw 84 pitches - 35 in a four-run fifth inning. His defense didn't help him in that inning.
More in tomorrow's Daily Times...