Myers named Opening Day starter
The busy day at the park just won't end...
For the third straight year,
Brett Myers
will take the ball on opening day.
Following a 9-1 win over the Toronto Blue Jays Tuesday night, the Phillies named Myers their starter for the season opener Sunday night against the Atlanta Braves.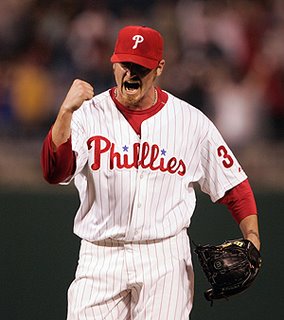 "Once Cole (Hamels) couldn't start, the way we keep the rotation, (Myers) follows Cole and then (Jamie) Moyer and (Joe) Blanton," Charlie Manuel said. "That's how we've had it when we won."
"Brett can have any type of year that he wants to have, he's that talented," Phillies pitching coach Rich Dubee said of Myers, whose inconsistency led him to a stint in the minor leagues last year. "If Brett can be the same guy and prepare in the same way every five days, there's no reason Brett can't have a big season."
Myers allowed one run on three hits in four innings against the Jays. He struck out three while walking none.
"I'm ready to pitch whenever, as long as they give me the chance," Myers said. "Whenever they give me the green light, I'll be ready."