Phils, Werth agree to multi-year deal; Durbin also avoids arbitration
Earlier this week, the Phillies made sure Ryan Madson wouldn't test the free agent market after this season when they agreed to a three-year contract with the reliever.
The Phils have apparently done the same thing with outfielder
Jayson Werth
.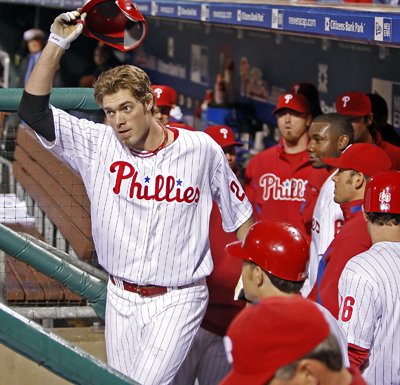 According to multiple reports, Werth avoided arbitration by signing a two-year, $10 million contract.
Werth, who hit .273 with 24 home runs, 67 RBIs and 20 stolen bases in 134 games last season, could have filed for free agency at the conclusion of the 2009 season. Instead, he's on board for two more years, meaning every player in the likely Opening Day lineup, except Pedro Feliz, is signed through 2010.
In addition to locking up Werth, the Phils avoided arbitration with Chad Durbin, signing the versatile, right-handed reliever to a one-year, $1.635 million pact. Durbin was 5-4 with a 2.87 ERA in in 87 2/3 innings last season.
About 24 hours ago when arbitration-eligible players and teams showed their hands in the form of salary figures, Durbin asked for $1.95 million while the team was offering $1.35 million.
When the Phils and Werth exchanged figures, Werth asked for $4 million while the team countered with $3 million. The two sides apparently decided a two-year deal, which will reportedly pay Werth $3 million this year and $7 million in 2010, was a fair way to meet in the middle.
The Phils have now taken care of seven of the eight players who filed for arbitration last week. Only Ryan Howard (asking for $18 million while the team is offering $14 million) remains.
Howard and the Phillies, who had their salary debate settled by an arbitrator last year, are likely headed down that path once again.