Halladay to Philly: What we know and what you should know about the nearly-done deal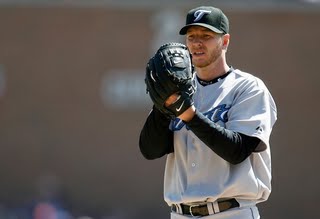 Roy Halladay
is in Philadelphia.
He is taking a physical, according to the AP.
But he's also likely talking to the Phils brass about a contract extension.
When both of those tasks are finished - a clean bill of health and a shiny, new long-term contract - it appears Roy Halladay will finally put on the red pinstripes at a press conference at Citizens Bank Park.
The Phillies are not commenting Monday on anything Halladay-related. But the fact that the pitcher is in town is really all you need to know.
When the i's are dotted and the t's are crossed, it appears Cliff Lee will be sent to Seattle and a group of top-flight prospects are headed to the Toronto Blue Jays in a holiday blockbuster, three-team trade.
According to ESPN.com's Jayson Stark, the Phils and Halladay could agree to a three-year deal in the neighborhood of $60 million (keeping him locked in until at least 2013). (According to Stark, the deal could also include possible vesting options that could extend the union another year or two.)
While Johan Santana (six years, $137.5 million), CC Sabathia (7-161) and Barry Zito (7-126) have raised the price on Cy Young award-winning pitchers in recent offseasons, Halladay appears in line to give the Phillies a bit of a "hometown" discount. He's expressed a desire to play for the Phillies, who spend two months for spring training in Clearwater, Fla., minutes away from the Jays' spring site of Dunedin and a short drive from Halladay's offseason home.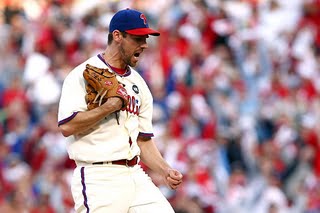 Why trade
Cliff Lee
? Like Halladay, Lee was due to be a free agent after the 2010 season. But unlike Halladay, Lee was almost certainly going to test the free agent market and less open to agreeing to a long-term deal before filing for free agency. (Lee saw former teammate CC Sabathia strike rich just last winter on the open market).
Phillies fans dreaming of having a rotation with Halladay and Lee should realize this: if the Phils traded for Halladay without dealing Lee, they likely would have had to deal
J.A. Happ
to Toronto and Joe Blanton elsewhere (to clear salary space) and, thus, would have a very talented, but top-heavy rotation.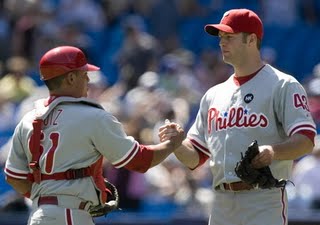 The tradeoff of the current, proposed deal is this: rather than get Cliff Lee for one more year, you have control over Halladay and Happ (not to mention keeping top prospect Kyle Drabek, too) for the foreseeable future. So instead of going for broke with Halladay-Lee-Hamels in 2010, the Phils are setting themselves up to have a talented, deep rotation for the next four years, if not longer.