Halladay and Phillies agree to deal -- now what?
Less than 24 hours after the rumor mill circulated that the Phils were involved ina three-team trade that would net them coveted Blue Jays ace
Roy Halladay
, first reported by SI.com, the team and their new ace have apparently got one, potentially deal-breaking hurdle out of the way.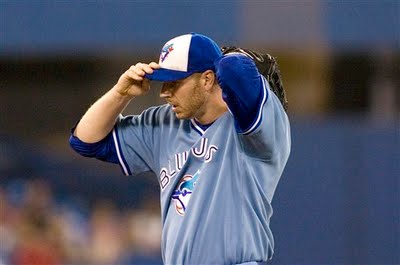 According to ESPN.com, the Phils and Halladay have come to terms on a contract extension that will pay Halladay upward of $20 million (or more) per season and keep the 32-year-old, former Cy Young winner in Philadelphia through at least 2013.
Now what?
All the teams involved have to agree on the prospects being exchanged. According to numerous reports, this appears to be a done deal as well: the Phils are reportedly sending top pitching prospect Kyle Drabek, five-tool outfielder Michael Taylor and top catching prospect Travis D'Arnaud to Toronto and, in exchange for Cliff Lee, Seattle is shipping Phillippe Aumont, the M's top prospect, along with pitcher Juan Ramirez and outfielder Tyson Gillies to South Philly.
CSNPhilly.com also reported the Jays are sending $6 million to the Phils in the deal, presumably to help pay off the $15.75 million remaining in Halladay's current contract (which was on tap to expire following 2010).
But it appears Halladay's contract won't expire; instead it's been renewed by the Phillies at an affordable figure (if you compare it to what fellow Cy Young Award winners CC Sabathia, Johan Santana and Barry Zito have got on the open market).
With a lot of moving bodies, physicals, medical reports and dollars moving 'round, there's a chance this thing still won't go official until Wednesday. Phillies officials - including GM Ruben Amaro - have not commented or returned phone calls to confirm or deny any of the many swirling stories regarding the blockbuster trades.