World Series: Yanks take control
This is a position the Phils aren't familiar with - trailing a postseason series.
The World Series, with CC Sabathia on tap to take the ball in the next game, is not a good time and place to be entering relatively-uncharted territory. The Yankees' 8-4 win in Game 3 of the World Series puts the Phils in their first deficit in a postseason series since falling behind to Colorado 1-0 in the '07 NLDS.
Does the Phils' mentality change?
"It doesn't change," Charlie Manuel said. "We'll come out tomorrow and we'll try to even play better and harder. We're that kind of team."
The Phils have to win tonight, in a Sabathia-Joe Blanton matchup, or in Monday night's Game 5, with Cliff Lee on the hill, to force the series back to the Bronx.
The Yankees, however, have clearly taken the momentum after losing the first game of the Series.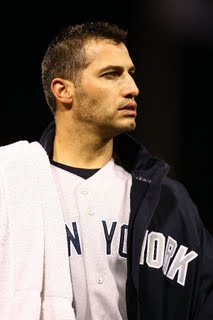 "We feel good," Game 3 winning pitcher
Andy Pettitte
said. "Not trying to sound too overconfident, but even when we lost the first game, our club feels really good about ourselves. We feel really good about we're doing and we feel good coming in here."
Pettitte, who extended his major-league record with his 17th career postseason win, held the Phils left-handed hitting trio of Chase Utley,
Ryan Howard
and Raul Ibanez to 0-for-9 with five strikeouts.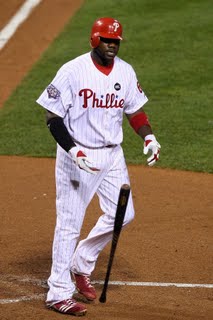 Howard, the NLCS MVP, was 0-for-4 with three strikeouts. He's 0-for-8 with seven strikeouts in the last two games, and has struck out in nine of his last 12 at-bats.
Another former NLCS - and World Series MVP - was also to blame. Cole Hamels threw three very sharp innings but his veered off course in the fourth and never did regain control of the wheel in his shortest career postseason start.
Hamels gave up five runs in 4 1/3 innings.
Hamels retired 10 or the first 11 batters. But he also allowed seven of the final 10 hitters he faced to reach base.
A home run to Alex Rodriguez - originally ruled a double and then overturned after instant replay - was the turning point for Hamels, who was handed a 3-0 lead and left trailing 5-3.
"After that it looked like things kind of started to snowball on him," Manuel said.
Cole Hamels
has one win in four postseason starts this year, and an ugly 7.58 ERA after rolling off a 4-0 record with a 1.80 ERA in the '08 playoffs.
"I haven't got the results that I anticipated and everyone else has anticipated," Hamels said.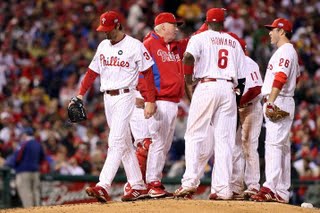 Late night - and long night - at the ballpark. For more on the game, check out the game story and a flurry of other stories from the Delco Times sports staff at delcotimes.com