World Series: Victorino in the lineup, who's available to pitch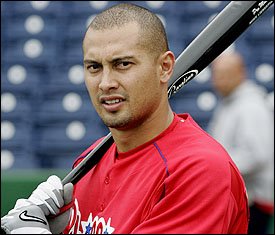 Here's you Game 6 lineup for the Phillies:
1. Jimmy Rollins, SS
2.
Shane Victorino
, CF
3. Chase Utley, 2B
4. Ryan Howard, 1B
5. Jayson Werth, RF
6. Raul Ibanez, DH
7. Pedro Feliz, 3B
8. Ben Francisco, LF
9. Carlos Ruiz, C
Also: Charlie Manuel didn't not name a starter for a possible Game 7 Thursday, but here are two interesting tidbits from what he did say --- every pitcher but
Cliff Lee
is available to pitch tonight AND he did not rule out the possibility of Lee starting a Game 7.