World Series: Phillies vs. Yankees, the Prediction
I took some heat for picking the Los Angeles Dodgers in the NLCS. And I deserved it; that was a one-sided mess.
Then again, it's what I believed would happen. The problem was I was making my prediction on stats and roster make-up and, well..... the stuff that you see on paper.
Not the stuff you see on the field.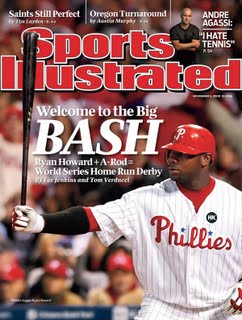 Without further adieu, here's my breakdown of the World Series and the prediction. But there is one problem - the picture I'm including is this week's cover of
Sports Illustrated
(which is a bit of a jinx, if you haven't heard).
First Base:
Ryan Howard
(.279, 45 HR, 141 RBIs, 105 runs) vs. Mark Teixeira (.292, 39, 122, 103 runs, 43 2Bs): Howard has nearly been a one-man wrecking crew in the postseason. Teixeira has not. Although Teixeira is the better all-around player, Howard is hotter. Slight edge, Phils.
Second base:
Chase Utley (.282, 31, 93, 112 runs, 23-for 23-SBs) vs. Robinson Cano (.320, 25, 85, 103 runs, 48 2Bs, 204 hits): One can easily make the argument that Cano has had the better season. But Utley brings the essence that's not categorized in stats, similar to what Jeter brings to the Yanks. Slight edge, Phils.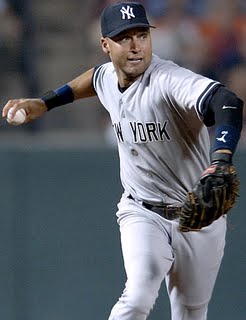 Shortstop:
Jimmy Rollins (250, 21 HRs, 77 RBIs, 31 SBs) vs.
Derek Jeter
(.334, 18, 66, 107 runs, 30 SBs, 212): It's hard to pick against the Yankees latest version of Mr. October. Rollins, however, the far superior defender at arguable the most vital position on the diamond. Still, Jeter has had an MVP-like season and raises his game in the postseason. Slight Edge, Yanks.

Third base:
Pedro Feliz (.266, 12, 82) vs. Alex Rodriguez (.286, 30, 100): Phils Hall of Famer Robin Roberts called Pedro Feliz the best defensive third basemen he's ever seen. Feliz also had a decent year with the bat. But A-Rod is on the top three players in the game. Edge, Yanks.

Catcher:
Carlos Ruiz (.255, 9, 43) vs. Jorge Posada (.285, 22, 81): There's no denying the impact Ruiz has behind the plate as a defensive catcher and game-calling receiver. He's also been one of the Phils' best bats in the playoffs. But like Jeter, Posada has had the better season and has a healthy heaping of postseason experience, too. Slight edge, Yanks.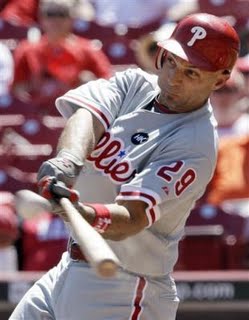 Left field:
Raul Ibanez
(.272, 34, 93) vs. Johnny Damon (.282, 24, 82, 107 runs): Damon brings a little bit more to the table with the fact that he can run. But his defense is borderline bad with a 50-cent arm. Ibanez is the bigger threat offensively and will likely be spelled on defense when he can play DH at Yankee Stadium. Slight edge, Phils.
Center field:
Shane Victorino (.292, 10, 62, 102 runs, 25 SBs) vs. Melky Cabrera (.274, 13, 68). Victorino is a gold-glove defender who brings the team and the top of the order that's difficult to translate statistically. The Melk Man may be a fan favorite in NYC, but he won't get under Phils' fans skin like Victorino may very well do in the Bronx. Edge, Phils.

Right field:
Jayson Werth (.268, 36, 99, 20 SBs vs. Nick Swisher (.249, 29, 82): Perhaps Swisher is the Yanks' response for the talkative Victorino. Swisher plays with a flair that'll earn him enemies in South Philly. Werth is far and away the better player in every facet of the game. Edge, Phils.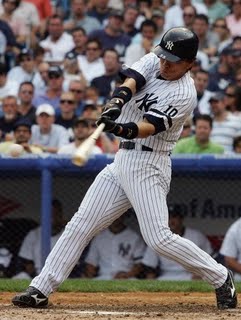 Designated hitter:
Ben Francisco (.257, 15, 46) vs.
Hideki Matsui
(.274, 28, 90). Francisco will likely be the extra bat in the order when the Phils play with a DH, although he could play left field for Ibanez. Francisco's offensive skills are underrated: he brings both pop and speed to the order. But Matsui is the scarier threat. Edge, Yanks.

Starting rotation:
Cliff Lee, Cole Hamels, Pedro Martinez, Joe Blanton (staff totals: 66-46, 4.29 ERA) vs. CC Sabathia, A.J. Burnett, Andy Pettitte, Chad Gaudin (63-42, 4.48): Members of the mass media have crowned Sabathia a national hero, but has he been that much better in the postseason than Cliff Lee? And while Burnett may sound like a safer choice for Game 2 than either Hamels or Martinez, the Phils have historically hit well against the former Florida Marlin. The Phils also have better depth. Edge, Phils.

Bullpen
: Brad Lidge, Ryan Madson, J.A. Happ, Scott Eyre, Chad Durbin, Chan Ho Park, Antonio Bastardo and Brett Myers (27-23, 3.91 ERA, 44 saves) vs. Mariano Rivera, Joba Chamberlain, Phil Hughes, Alfredo Aceves, Phil Coke, David Robertson and Damaso Marte (40-17, 3.91, 51 saves): Neither one of these relief corps were lauded like those of the Red Sox or Dodgers when the postseason began, but there's something to be said for the fact that their both still standing in the playoff dance. While the Phils battered corps has appeared to turn the corner in October, the Yanks' has limped into the World Series. But the Yankees can still turn the ball over to Mariano Rivera in the ninth. Edge, Yanks.
THE PREDICTION
While Mother Nature tried her best to offer the Phils some October payback, Springfield grad Mike Scioscia – or more accurately, Vladimir Guerrero and Co. – didn't exactly help the Phillies' World Series chances.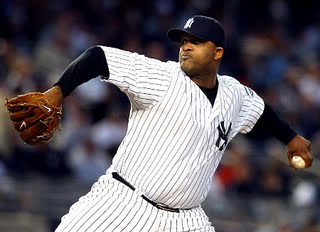 If the L.A. Angels forced a Game 7 in the ALCS,
CC Sabathia
would have started for the Yankees Monday, and thus, wouldn't be available for either of the first two games of the World Series. But here is some interesting info on Sabathia – he's not unbeatable.
The Phils (you didn't forget the Flyin' Hawaiian's slam, did you?) beat him in the postseason a year ago when he was with Milwaukee. They also scored three times off CC at Yankee Stadium in a 4-3 win in May.
So if Sabathia starts three times, don't fret. Cliff Lee has been just as good and might be able to pitch three times, too, if the series goes seven games (which it won't).
Frankly, the only clear advantage the Yankees have is closer Mariano Rivera. Just as they can match Sabathia with Lee, the Phils match A-Rod's hot bat with one of their own in Ryan Howard.
Pedro Martinez and Cole Hamels are just as capable of winning games as A.J. Burnett and Andy Pettitte.
Jimmy Rollins
is as capable of getting a clutch, playoff hit as Derek Jeter (and Rollins covers more ground at short, too).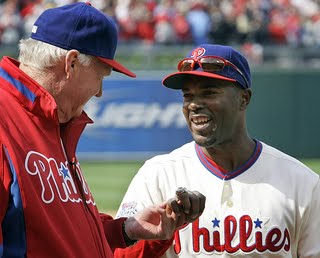 As long as the supporting cast around Howard (Chase Utley, Jayson Werth) does their part and the bullpen keeps up their October redemption, the team of now (the Phillies) can beat the dynasty of a decade ago (the Yankees), and beat them in relatively quick fashion.
The Phils have dropped one playoff game in each series dating back to the beginning of the '08 playoffs. That trend sticks.
PHILS IN 5.