NLDS, Phils vs. Rox: Game 2 lineup.... and about the Game 3 starter
The lineups for Game 2 are nearly identical to the ones trotted out by Charlie Manuel and Jim Tracy yesterday, with the exception of Rockies All-Star Brad Hawpe, who has struggled mightily in the second half (.240-9-27 post All-Star, .320-14-59 pre-All-Star), replaced by Ryan Spilborghs.
Colorado:
1. Carlos Gonzalez, LF
2. Dexter Fowler, CF
3. Todd Helton, 1B
4. Troy Tulowitzki, SS
5. Garrett Atkins, 3B
6. Yorvit Torrealba, C
7. Ryan Spilborghs, RF
8. Clint Barmes, 2B
9. Aaron Cook, P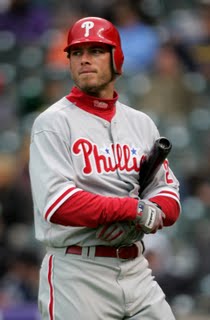 Philadelphia:
1. Jimmy Rollins, SS
2. Shane Victorino, CF
3. Chase Utley, 2B
4. Ryan Howard, 1B
5.
Jayson Werth
, RF
6. Raul Ibanez, LF
7. Pedro Feliz, 3B
8. Carlos Ruiz, C
9. Cole Hamels, P
While Game 2 hasn't even began yet, the biggest question Charlie Manuel faced this morning regarded Game 3. Who is his starting pitcher?
J.A. Happ loosened up in the pen during the ninth inning of Game 1. Both Happ and Blanton will be ready if needed out of the pen today.
Pedro Martinez hasn't been an option out of the pen during the series. According to Manuel, all three are in play for Game 3.
"We'll probably know (Friday) after practice or something," said Manuel, who didn't appear to be in any kind of a rush. "I haven't talked to (pitching coach Rich) Dubee about it. We haven't got together on it yet. One day at a time. That's how we've been playing for the last three or four years."
Here is your pregame reading material:
Cliff Lee shines in his playoff debut
to lead the Phils in Game 1.
The Phils
didn't stand pat
in trying to repeat, adding the right pieces to the mix, and two played big roles Wednesday.
The
Game 1 notebook
, led by Jayson Werth's toolsy afternoon at the park.
Jimmy Rollins cuts through the wind
to display his shiny golden glove.
The R
ockies' ace gets rattled
in two game-changing innings.