Pitching Rotation's Musical Chairs: Who'll be left standing?
So let me see if I can get this straight - the Phillies have seven starting pitchers, right? Seven starters for five spots.
OK, perhaps it's six, since the Phils have announced that Cliff Lee is pitching Thursday, thus, skipping Rodrigo Lopez. Lopez will be available out of the bullpen.
He's been unceremoniously sent to the 'pen.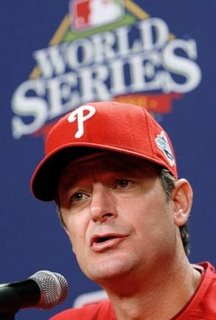 So now we're down to six: Cliff Lee, Cole Hamels, Joe Blanton,
Jamie Moyer
, J.A. Happ and the soon-to-be-joining-the-team Pedro Martinez.
In today's Daily Times, we
examined the options the Phils have
in solving this dilemma.