On Pedro: "Here we are now, entertain us"
Pedro Martinez
knows how to work a room.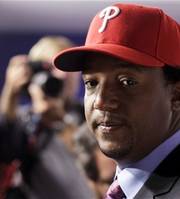 All he has to do is smile, really. And then when he opens his mouth, he has that almost Charles Barkley-way of saying something that would seem offensive if anyone else said it, but since they're entertainers who have wacky personalities, we laugh.
Pedro Martinez still has the million-watt smile and the sophomore wit. "I think we'll have a lot of fun," Martinez said in his introductory press conference Wednesday. "Because (Philadelphia fans) seem to be really wild -- and I'm a little out there, too."
Cool. The fans should love the show he puts on and he'll surely keep us media types busy, in a good way, with something to write each time he pitches.
But let's get the the heart of the Pedro signing: he'll only continue to make people in Philadelphia smile if he produces. If he goes belly-up and pitches like the guy who wore a Mets uniform in the last three years, he'll get booed out of Philly quicker than
Paul Abbott
.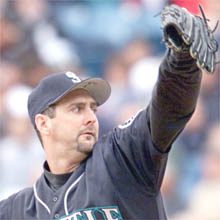 Let's get another point out of the way: Pedro is no longer the kind of guy who can be considered a savior, a guy who can solve what ails a rotation that brings a 4.98 ERA (fifth worst in baseball) into the second half.
In the last three years, Martinez is 17-15 with a 4.74 ERA. That ERA is nearly two runs higher than his career mark of 2.91.
In that same three-year span, Martinez has logged 269 2/3 innings in 48 games, which, if you do some simple dividing, translates into 5.6 innings per start. That's not the kind of "horse" Charlie Manuel has wanted for the last two years and it's not the kind of work you need from a pitcher to keep an already-abused bullpen from tiring before September.
But, as Pedro said Wednesday, he was pitching hurt with the Mets. Perhaps his arm, which has landed him temporarily back on the DL for now, will be reborn for August and he'll give the Phils two months of production that bring the Pedro of Boston to mind.
Time will tell, as it always does. But don't get overly excited about Pedro just because he is one of the game's best entertainers, a man with a personality that is bigger than his sizable talents.
He may help the pitching staff, but he's not the guy who puts the Phils over the top.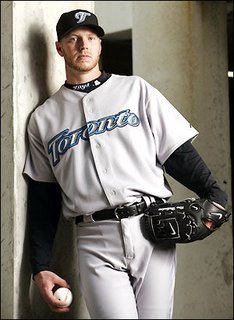 The Phils have exactly two weeks, until the trade deadline, to make a run at
that guy
.
-----------------------------------------------------------------
A trio of highlights from my trip to St. Louis for the All-Star Game:
- After the Home Run Derby, a few of us baseball scribes wandered over to the All-Star Gala, an event that included live music, food and free drinks. Most players wouldn't dare show up here, since there are tons of fan-types.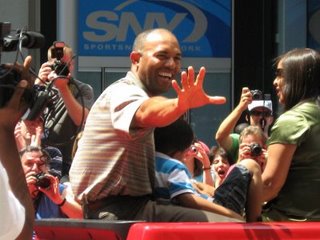 But Yankees closer
Mariano Rivera
dropped in with his kids and began playing a baseball video game on one of the Playstation 3 consoles at the Gala. Very cool.
-During the same All-Star Gala, Chuck Berry played. Chuck Berry is in his 80s. He's the Rock and Roll-version of Jamie Moyer. He played Johnny B. Good.
Fellow St. Louis native Nelly also performed, which led to a funny scene: former Phils GM Ed Wade was near the stage, watching Nelly perform. Didn't think I'd ever see that.
-Lastly, St. Louis is, in fact a terrific baseball town. One of the last few in America, where football is king. The number of people who showed up for the parade before the All-Star Game, when the players arrived on a red carpet, was stunning.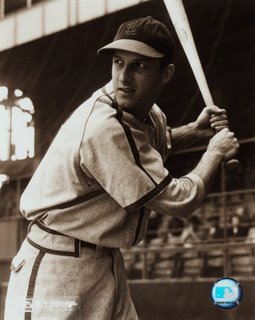 Equally stunning: St. Louis hero and Hall of Famer
Stan Musial
just so happened to be in an elevator, sitting in a wheelchair, with a older woman I assumed to be his wife wehn a few of us writers hopped aboard. The woman with Musial began handing everyone autographed postcards from Stan the Man. Really. Although completely not necessary, it was amazingly cool.