Flyin' Hawaiian wins; Amaro denies Pedro signing
Just a couple quick pregame notes:

Shane Victorino
is going to the All-Star Game. The Flyin' Hawaiian overtook San Fran third baseman Pablo Sandoval on the final day of voting in the Final Vote competition.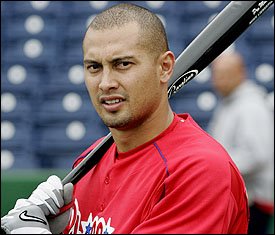 Sandoval may have better overall numbers, but Victorino leads the Phillies, a very good hitting team if you didn't notice, in hits. He also is a Gold Glove center fielder.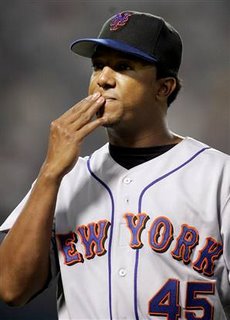 Pedro Martinez
has not signed with the Phillies. Despite a report generated from a Spanish language news source, the Phils have not signed the veteran pitcher.
Phils G M Ruben Amaro Jr. said he "didn't know where that was coming from" regarding the report, and denied a deal was in place. He no commented his way through the next series of questions, which asked, among other things, if the two sides were negotiating.
The Phils watched Martinez pitch a simulated game in the Dominican Republic on Tuesday.