Early All-Star voting results: Utley in first, Ibanez in sixth
The first round of early results are in for the All-Star Game and just one Phillies player is leading the voting.
Chase Utley
, who led all National League players in voting last year regardless of position, currently leads all second baseman in the NL.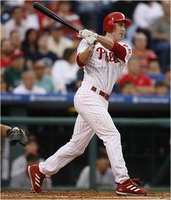 Ryan Howard is third among first baseman (but over 500,000 votes behind leader Albert Pujols, who leads all players in voting).
Raul Ibanez
is sixth among outfielders (Ryan Braun, Alfonso Soriano, Carlos Beltran, Manny Ramirez and Mike Cameron - Mike Cameron? - are ahead of Raauuuuul).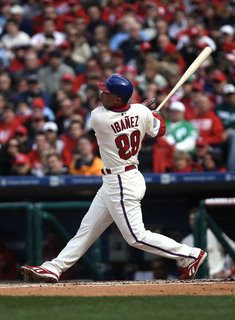 At shortstop, Jimmy Rollins is in third place behind Hanley Ramirez and current leader J.J. Hardy. (J.J. Hardy?)
It seems there's a Milwaukee conspiracy at play. (Or the Brewers have played more home games, and thus, have had more ballots in play, than other teams since the polls opened). Milwaukee is either 1st or 2nd in voting results at every position.
Shane Victorino (10th) and Jayson Werth (12th) were also among the top 15 outfielders. No other Phillies player is currently in the top 5 of their position.
----------------------------------------------------------------
Actually, I'll take the wisecrack about Mike Cameron back. He's hitting .285 with 9 home runs - that's certainly not terrible.
It doesn't warrant being ahead of Ibanez, but it's not laughably bad either.