Romero sues supplement maker
J.C. Romero
knows he won't get his 50 games back.
The Phillies reliever was suspended in early January for negligence, related to violating Major League Baseball's drug policy after unknowingly taking a supplement that included a banned substance.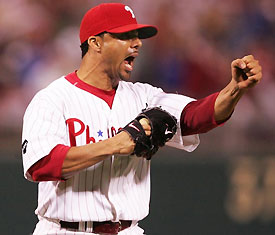 Although he won't get his time on the field he dearly misses, he's trying to recoup the estimated $1.3 million in salary he loses with the suspension.
Romero filed a lawsuit today in Camden County, N.J. seeking punitive and compensatory damages against the nutritional supplement manufacturer, alleging an unlisted ingredient in one of its products caused him to test positive for a substance banned by Major League Baseball.
"I purchased an over-the-counter supplement that I was told and believed would not cause me to test positive," Romero said in a statement released by his legal team Monday. "These events have hurt me deeply and placed a cloud over my career, accomplishments and family. It is my hope that I can finally start to put this event behind me and protect the interests of others who rely on manufacturers and retailers to be honest about their products."
Romero was with the Phillies this weekend in Florida, working out with the team during batting practice. His suspension won't be lifted until the Phillies play their 50th game, likely sometime in the first week of June.
Romero is spending the first two months of the season working out at the Phillies spring training and minor league facilities in Clearwater, Fla.