The Ring Ceremony - Live on the Blog! (pics added)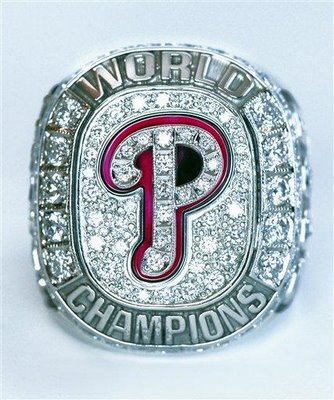 2:36 p.m.
- Harry Kalas has thrown the first pitch.
2:39 p.m.
- A police escort - four motorcycles - are escorting a Citizens Bank van that has the rings inside onto the field as I type. The van has windows with pulled-down shades.
Very secretive....
This is riveting.
2:43 p.m.
- The back door of the van is open. The World Series trophy (!!) is being carried out. And now, four boxes that closely resemble Krisy Kreme donut boxes are following the trophy.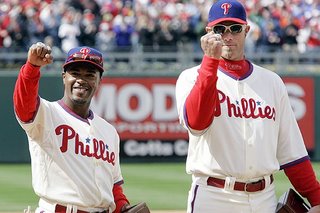 Even though they needed a police motorcade to get into the stadium, the rings are currently in the hands of the ball girls. They have good, trustworthy hands, apparently.
2:45 p.m.
- Adam Eaton is seen in the dugout talking with Scott Eyre. No truth to the rumor that the fans within earshot are telling Scott not to talk to the banished starting pitcher.
2:48 p.m.
- A video is playing on the big screen, narrated by Harry Kalas, with players talking about the ring. Chase Utley has appeared on the big screen; teenage girls are shrieking in delight. Grown men are falling asleep.
2:50 p.m.
- David Montgomery has handed the first World Series ring out. The recipient? Pat Gillick. Charlie Manuel follows the former G.M.
2:51 p.m.
- They are showing the ring on the big screen. It's silver, and it's one sharp piece of bling.
2:53 p.m.
- Joe Blanton, today's starting pitcher, is the first player to receive a ring. He gave it back, as he has to go warm up for a game. Yes, they have to play a game today, people.
2:55 p.m.
- The ring has the Phillies symbol, with the Liberty Bell on one side and the World Series trophy on the other.... with a big, scripted "P" on the top.
2:56 p.m.
- Adam Eaton has been introduced.
2:56:02 p.m.
- Eaton has been roundly booed.
2:56:30 p.m.
- In a good timing move, Matt Stairs is announced after Eaton.
2:58 p.m.
- Lidge announced; gets the biggest applause yet.
3:00 p.m.
- They're capping the intros by announcing the lineup for Game 5 of the World Series in reverse order.
3:01 p.m.
-
Pat Burrell
gets a bigger ovation than Hamels and Lidge. Weird.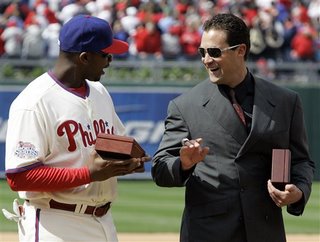 3:03 p.m.
-
Jimmy Rollins
gets the last ring. Everyone is good to go.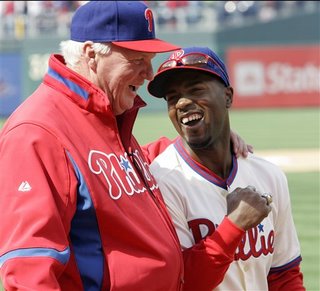 Ring wrap up: Jimmy has tried his on. He appears to like it. Eaton recieved the biggest Bronx cheer, Burrell the biggest applause and Gillick was the most emotional.