Opening night in review: on Myers, breaking up the lefties
Following the Phils (that has a nice ring to it, huh?) season opening loss,
Brett Myers
did what he normally does after a bad outing: he was open and honest, he admitted to not executing on key pitches and he placed the blame for the loss on himself.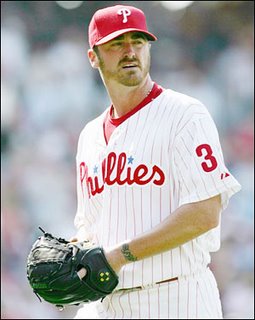 But he also said repeatedly - maybe four or five times - that he made "three mistakes" and the Braves capitalized.
We at Phollowing the Phillies hate to nitpick, but we counted more than "three" blistering hits by the Braves. "Three" home runs, sure. They were mistakes.
But how about the base hit to Chipper Jones before Brian McCann's two-run, two-out home run in the first inning? If Jones doesn't reach, McCann leads off the second and if he does homer, it's only a solo shot.
Or what about Yunel Escobar's bomb in the top of the third, which was as close to a home run as Pat Burrell's blast in Game 5 of the World Series?
Jones also rifled a double off Myers in the fifth.
Perhaps these weren't "mistakes" and Myers was crediting the hitters for these non-home run bullets. But the fact is Myers was hit - and hit hard - in his third season opening start.
By the way, he's 0-for-3 in those Opening Day starts. I think that means he's out.
Myers is maddening in his inconsistency, which isn't likely to change any time soon. He's 28 years old and he's been in the league since 2002.
------------------------------------------------------------------------------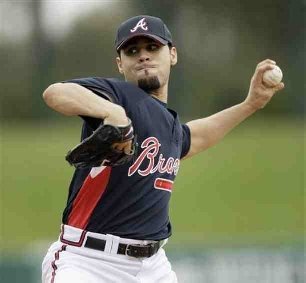 You may have noticed - the game ended with Braves closer
Mike Gonzalez
, a left-hander, striking out Ryan Howard, a lefty, and Raul Ibanez, another lefty, with two runners and the score at 4-1.
After the game, I asked Charlie Manuel if he'd consider breaking up the left-handers (like possibly moving righty Jayson Werth to fifth, bumping Ibanez to sixth).
Here was Manuel's response:
"We played one game, man... what would you suggest? Basically the guys you see on the field, that's our lineup. There are some things we can do, we can shuffle some guys around, but more than likely it's going to land where it's at. Unless we can find a right-handed hitter who goes in between them that gets hot."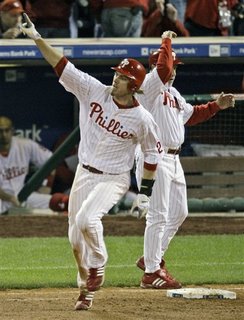 All due respect to Charlie, but
Jayson Werth
did hit .333 with six home runs and six home runs and 15 RBIs in 25 exhibition games coming into Sunday night.