Miami Heat ... and outraguous money
I understand it's hot and sticky back home. I'm happy to report it's beautiful here in Miami - it's the first time I've been down here that it hasn't been humid.
But I spent the whole day in a hotel room writing a Sunday Notes column, so it kind of defeats the purpose of trying to rub in the near-perfect weather.
But I digress.... it's admittedly tough to focus on baseball with one TV tuned into Flyers-Penguins up here in the press box and another showing the NFL Draft (which apparently begins at 10 p.m., although television coverage began at 5 a.m.).
Is there anything more annoying than 146 hours of pre-draft coverage? Yes, there actually is --- the soon-to-be No.1 overall pick,
Matthew Stafford
, has agreed to a contract with the Detroit Lions that guarantees him
$41.7 million
.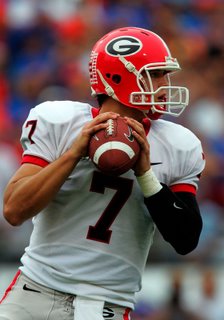 Just to put that in perspective: that's $20.2 million more than World Series MVP Cole Hamels got in his recent contract with the Phillies. It's closer to the $54 million former NL Rookie of the Year and MVP Ryan Howard got this winter.
But those guys have accomplished something at the pro level and we awarded by their teams. Stafford won't put a Lions jersey on until today.
He's getting $41.7 million for going 27-7 at the University of Georgia.
Hey, you can mock the insanely-large contracts doled out to Alex Rodriguez, CC Sabathia and Barry Zito in recent years. But at least those guys had accomplished something in their pro careers.
Who's to say Matthew Stafford isn't another Tim Couch or Matt Leinart?
But baseball might not be immune to super-sized contracts for amateur players... San Diego State's
Stephen Strasburg
(who throws over 100 mph, by the way) and his agent Scott Boras
could be looking for a Stafford-sized deal
.