Kalas' memorial tribute to take place Saturday
The Phillies will honor late, great broadcasting icon
Harry Kalas
this weekend at Citizens Bank Park.
Kalas, who died Monday at the age of 73, will be remembered in a memorial tribute Saturday. According to a Phillies press release, fans will have the opportunity to pay their respects on a first come, first serve basis to as many fans possible from 8:00 a.m. and 12:45 p.m.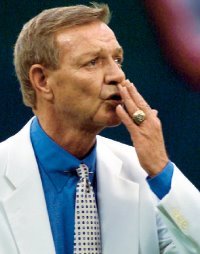 Fans will then be directed to seats for an on-the-field tribute in memory of Kalas at 1 p.m.
The Phillies will also pay tribute to Kalas on Friday, when return home from their road trip to host the San Diego Padres. Beginning tomorrow, the team will honor Kalas with a black, circular "HK" patch that will be worn "in the area of the heart" on their jerseys.
The funeral and burial services for the Hall of Fame announcer will be private and take place next week.