Hamels update (UPDATED)
You can choose to disregard the update below if you wish.
Hamels just thew his 30th pitch of the third inning --- he threw 30 pitches total in the first two innings.
Needless to say, the third didn't go so well for the World Series MVP.
Although it took him a little longer than his rotation mates, Hamels was hammered by the opposition, putting the Phillies in an early hole. The Rockies banged out five runs on six hits in the third - and hit for the cycle in the process.
The big blow was Garrett Atkins two-run homer with two outs.
The Phils trail 5-1... and, with 60 pitches and a lack of command, I can't see Hamels going beyond five innings today. But, we shall see...
-------------
If you're still at work and can't follow along in the early innings, here's an update on
Cole Hamels
' first regular season start.
Through two innings, he's thrown 30 pitches but has struggled with command. Hamels has 16 strikes, 14 balls.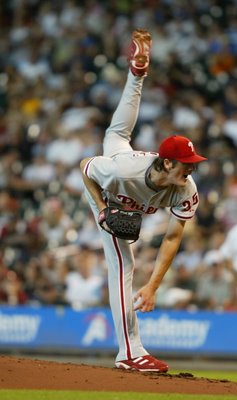 He's walked one batter and allowed one hit - to the first batter he faced, Dexter Fowler.
But there are no runs on the scoreboard (it's 1-0 Phils on a Pedro Feliz sac fly), so it's obviously the best start by any Phillies starting pitcher so far in '09.
I think Hamels is fine health-wise.... I'm only curious to see how far he can go. At his current pace, going beyond the 6th might be tough.
He'll have to be more economical with his pitches. If the stamina is beginning to build - he threw five innings in his last game - Hamels should be able to get to the 7th or 8th inning in his next start, I would imagine.