Charlie Bobble
For my money, there's no better promotional giveaway than the bobblehead doll. Whether you're 6 or 66, let's face it - they're funny.
I remember waiting in a line outside Veterans Stadium 8 or 9 years ago on the day the Phils gave away the "Harry and Whitey" bobblehead. Brett Myers actually has the same one sitting in his locker in the Phils' clubhouse.
If you're looking to score a bobblehead this year, there are some good ones, including the first one depicting Brad Lidge in a Phillies uni.
But it doesn't get any better than the one all fans will receive with admission to Tuesday night's game against the Nationals.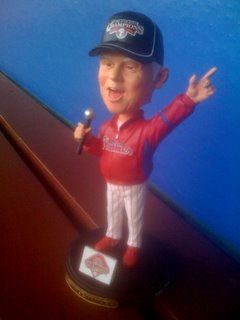 The
Charlie Manuel
bobbleheaed. Genius.