TGIF: Bruntlett, Wade an audio file and your Opening Day starter?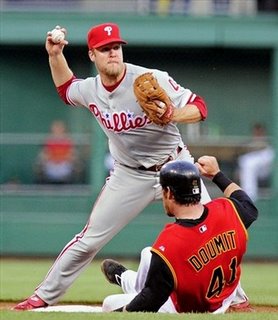 We've landed in Kissimmee, the last, long-ish road trip of the eight-week Spring Training journey.
It's Phillies-Astros at Osceola Stadium. Seven more games down here in Florida until the Phils return to Philly.
Yesterday, I caught up with
former Astro

Eric Bruntlett

, who is having a pretty darn good spring
- he comes into today hitting .345.
Brett Myers, who is on a five-day pace right now that would land him on the mound for Opening Night on April 5 against the Braves, takes the mound today. Myers hasn't officially been named the Opening Day starter, but unless Cole Hamels' wows the club on Sunday, it seems naming Myers is all but a formality now.
Here are a couple of other items to fill your daily baseball appetite. In case you missed it,
I caught up with Astros GM (and former Phils GM)

Ed Wade

the last time we came into Kissimmee
(less that two weeks ago).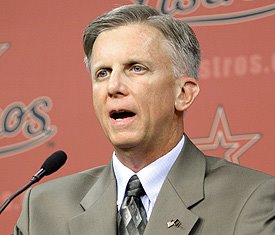 Also, I caught up with Mike Gill of ESPN 1490/Atlantic City yesterday. Here's your weekly edition of
Talkin' Phils baseball
:
i
ryan0326.mp3