Saturday, in the Park... and, speaking of Park
It doesn't feel quite like the Fourth of July, but it's awfully nice here and a nice crowd has turned out already for Phils-Tigers at Bright House.
Here is today's Phillies lineup:
1. Eric Bruntlett, SS
2. Greg Dobbs, DH
3. Geoff Jenkins, LF
4. Ryan Howard, 1B
5. John Mayberry Jr., RF
6.
Jayson Werth
, CF
7. Mike Cervenak, 3B
8. Jason Donald, 2B
9. Lou Marson, C
A trio of lefties - Jamie Moyer, J.A. Happ and Scott Eyre - are on tap to pitch.
I guess the most interesting thing about that lineup is the inclusion of Werth, who has yet to play in a Grapefruit League game.
He played in a "B" game yesterday, and after not swinging the bat in his first plate appearance, a six pitch strikeout looking, Werth laced a sharp single to left off Blue Jays' closer B.J. Ryan. He finished 1-for-4 and his ailing right shoulder appeared to be healed.
-------------------------------------------------------------------
We had an early deadline last night, so in today's paper I didn't get too much into how well
Chan Ho Park
pitched in Friday's night game in Dunedin against the Blue Jays.
Park was near-dominant in four innings. He allowed one run on three hits, but after giving up a single to the first batter he faced, Park retired nine batters in a row.
He struck out four and walked zero.
Although the Phillies might prefer Park as a multiple-inning reliever, he might change their mind if he continues to pitch as he did against the Jays.
"It's where we think we need him most," manager Charlie Manuel said. "If he's better than someone else [as a starter, we're] very open to it."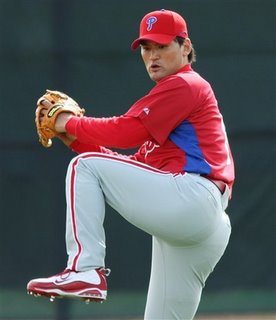 Park has made it clear he prefers to start. On Friday, he talked about how important it is to the people in his home country of South Korea, who looked forward to his starts every five days when he first came up with the Dodgers.
Park's passion for his country was obvious before Friday night's game - in the Phillies clubhouse earlier in the afternoon, he watched intently as South Korea beat Chinese Taipei. In a press conference over the winter, Park choked back tears when he announced he wasn't going to pitch in the WBC for South Korea.
His reasoning: he wanted to focus on winning the fifth spot in the Phillies rotation.
For Park to pass up on competing for the country he loves, it's should be pretty obvious how much he wants to win the job in Philly this spring.