Hamels officially off the table for Opening Day?
For the last two weeks, Phils pitching coach Rich Dubee has called
Cole Hamels
"a long shot" to make his originally-scheduled Opening Day start.
After throwing in a minor league game Monday, Hamels basically took himself out of the running - although his left elbow is no longer an issue.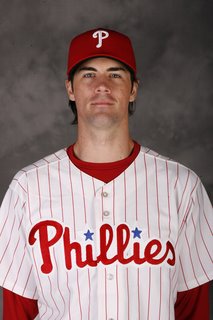 When asked if he thought he needed one more exhibition tuneup before making a regular season start, Hamels said, "Definitely."
"I think that would be the best, knowing that I can go out there, hopefully go a little deeper, maybe 80 pitches, get past that fourth inning," Hamels said, laughing at the four innings he pitched, throwing 64 pitches Monday. "Pitching four innings in the big leagues doesn't help out much, the bullpen would be taxed. It's just knowing I can go out there and hit my spots - that's the key. That just happens with going out there and getting repetition."
Hamels gave up three runs on 10 hits in four innings on Monday, but was working out the kinks, bringing his curve ball into his arsenal for the first time in a game this spring.
Hamels has made two minor league starts since getting a anti-inflammatory shot 13 days ago. He said he's tentatively scheduled to pitch Saturday, in an exhibition against the Tampa Bay Rays at Citizens Bank Park and then make his regular season debut in the fourth game of the regular season on the following Friday in Colorado.
But Dubee and the team's management and medical staffs will have the final say, of course.