Hamels back on the horse; trade rumors, schmumors (and an Opening Day lineup)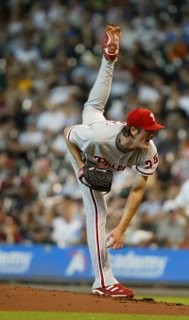 Cole Hamels
was in Philadelphia this time last week, visiting team physician Michael Ciccotti. The Phils ace received an anti-flammatory shot in his tight left elbow.
Hamels gets back on the mound today in a minor-league game. It should be interesting to see where Phillies management flocks today - to Dunedin to watch Chan Ho Park pitch or to the back fields at the Carpenter Complex to see how Hamels responds to his first, big challenge toward prepping for the regular season.
Pithching coach Rich Dubee continues to say Hamels' chances at starting on Opening Day are slim. But he also shed light on when his top pitcher might be available.
Hamels is expected to throw 50 pitches today and Dubee wants the left-hander to throw two more times before the start of the regular season.
The third tune-up is tentatively on tap for April 3 or April 4 --- a day or two before Opening Night against the Atlanta Braves.
"Few and far between --- it's a very, very, very small shot, if at all," Dubee said. "But saying that isn't saying he can't pitch the fourth game of the season and not miss a start."
Dubee left the door slightly ajar by saying Hamels could skip the third spring tune-up if he "throws 80 pitches and is lights out" in his next start after today.
-----------------------------------------------
Most of the time, I laugh off wild trade rumors... most come from over-caffeinated radio talk show hosts, trying to fill air time. Which is okay - they need something to talk about, and trade rumors, false or not, are probably more likely to draw call-in traffic than, say, chatting it up about Miguel Cairo.
All that said, this
Lou Marson
-Clay Buchholz is not completely out of line. (It was reported in the Boston Globe the other day).
Here's why it can't be completely laughed off: the Red Sox have an aging catcher in Jason Varitek and don't have anyone to take over the reigns. The Phillies, like any team, could use a young pitcher like
Clay Buchholz
.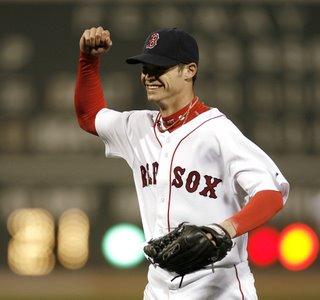 But look a little closer, and remember this, too: Brett Myers is a free agent at season's end, Jamie Moyer is not getting any younger, and no matter who wins the fifth spot in the rotation, neither Chan Ho Park and J.A. Happ are sure bets for long-term success in Philadelphia.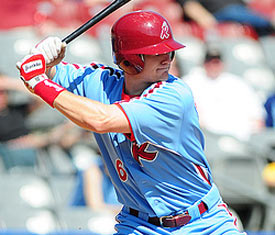 Cole Hamels (whose health is always in question) and Joe Blanton are probably the only sure bets to be in the rotation in 2010.
The Phillies also like Carlos Ruiz (as long as he hits somewhere closer to .250 and not the .219 he hit in 2008). And they have a nice crop of other young catchers blossoming in the minor leagues. Twenty-year old, former first round pick Travis D'Arnaud was rated the No.7 prospect in the organization by Baseball America this year.
Phils GM Ruben Amaro Jr. doesn't comment on trade rumors. While I still don't think this will happen, I'm not going to laugh it off, either.
----------------------------------------------------------------------------------
With the WBC guys back, the Phillies are trotting out a lineup for the trip to Dunedin today against the Blue Jays that looks an awful lot like the one you'll see on April 5 for the regular season opener.
1. Jimmy Rollins, SS
2. Shane Victorino, CF
3. Chase Utley, 2B
4. Ryan Howard, 1B
5. Jayson Werth, RF
6. Raul Ibanez, LF
7. Pedro Feliz, 3B
8. Chris Coste, DH
9. Carlos Ruiz, C
Chan Ho Park is pitching; back at the Carpenter Complex, Hamels will be joined by Joe Blanton and J.C. Romero in a minor league game.
Speaking of Opening Day lineup, it sure looks like
Brett Myers
will be making his third straight Opening Day start. The Phils posted the pitching schedule for the next week and Myers looks like the only possible option.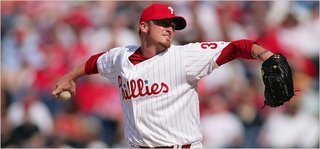 Jamie Moyer's next start is tabbed for Saturday... meaning he would most likely go again in the Grapefruit League finale here next Thursday.... meaning he's not pitching Opening Day on two day's rest.
After today, Joe Blanton will pitch again on Sunday.... meaning, five days of rest puts him on tap for Friday at Citizens Bank Park in the on-deck series opener against the Rays... meaning he also isn't pitching on Sunday, April 5.
Myers is pitching this Friday.... and then again next Tuesday. And, whaddyaknow, five day's rest puts him smack dab on for Sunday, April 5 against the Braves.