Good-crazy or bad-crazy?
Chan Ho Park
has pitched about as well as anyone could have expected this spring.
He's 2-0 with a 2.45 ERA in five games. He's walked just two batters - while striking out 25 - in 21 1/3 innings.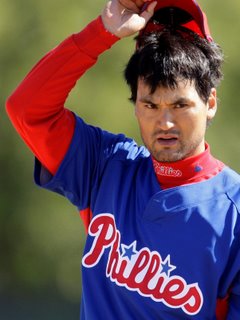 Park finished his spring campaign strong, allowing just one earned run in 5 2/3 innings of a 13-3 win over the Astros Monday.
"I'm expecting their decision to make me as the starter, that's my goal, that's why I signed with this team," Park said. "I think (my performance this spring) was better than they expected."
Park, who signed with the Phils with little fanfare this winter, looks like the pitcher who stormed onto the scene with the Dodgers 12 years ago. He doesn't look like the pitcher who flamed out in Texas after signing a mammoth, five-year, $65 million contract in 2001.
Park also signed with the Phillies
specifically
because they were the team that said they'd allow him to compete for a starting job.
Despite J.A. Happ's equally strong spring, can the Phillies ignore Park's success. Is it bad for business to sign a player and promise him a chance to compete, but then ignore his results?
The Phils liked how Park performed in the bullpen for the Dodgers last year. But he signed here to start, and surely has pitched like a guy who has earned a chance to start.
It should be interesting to see how Park reacts if the team chooses Happ.
"I don't know, let's see," Park said. "Wait, wait, wait, wait — we'll see. Sometimes I'm crazy."
Which led me to ask a very important followup question: "Good crazy or bad crazy?"
"I don't know - wait," said Park, with a serious look on his face. "You guys have seen me go crazy, like when the Korean guys won in the WBC."
Park was referring to his wild run around the clubhouse that ended with a Brad Lidge-at-the-end-of-the-World Series celebration after Korea beat Japan in an early-round World Baseball Classic game.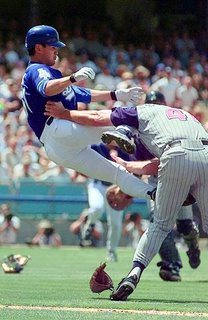 But that was good-crazy. Are the Phillies prepared to find out what
bad-crazy
is?