State of the Phillies address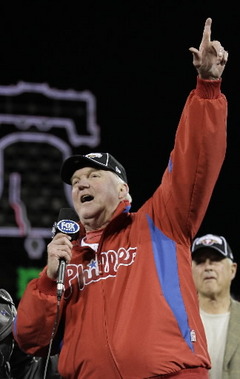 Feb. 14 was the day Phils fan circled on their calendar because it the was day pitchers and catchers reported to Clearwater.
But today - Feb. 17 - is the first full-squad workout, meaning it's no longer just Cole Hamels, Brett Myers and company working out. Jimmy Rollins will pick up a bat for the first time, Shane Victorino will get his legs in gear and, sooner or later, the underrated live batting practice sessions will take place on the back fields at the Carpenter Complex.
Before everyone hits the field, however,
Big Chuck
gives his annual "Go Get 'Em" speech.
Shortly after 9 a.m. this morning the media was shuffled out of a packed clubhouse as Charlie Manuel strolled into with a mini, yellow legal pad in tow. He brought notes for his start-of-spring training speech.
We don't have a transcript - we tried to steal it, but Charlie is pretty crafty - but here's a look at what he said Saturday regarding his thoughts on what the team needs to hear as they defend their '08 World Championship and begin 2009.
Manuel broke down how he addressed pitchers and catchers before Saturday's workout.

"I talked about 10-15 minutes or whatever. I was trying to find an ending to it and finally I just asked (pitching coach Rich) Dubee, 'Do I need to say anything else?' He said, 'No Chuck. You covered it.' That was kind of where it was at.

"It was about winning and winning again and the fact that we won last year. But that's behind us now. If you're thinking about yesterday, well that means you're not doing nothing now. Our ultimate goal now is to win again. Before it was to win a World Series. Now it's to win again, repeat.

"We've got the talent and I just want to keep the same way of playing, the same attitude and how we go about our business and we'll be OK. I said 2-3 years ago, I know the guys on our team and that we would compete. If we play like we can and of course you've got to stay free of injuries and it's a long season, but we have a good chance of repeating.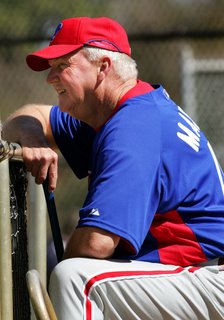 "I know how hard it is and I know other teams are going to be gunning for us, and I know how good we've got to play and I think they do too. Think down the stretch our pitching was the most consistent it's been since I've been here.

"I told them today that either we should have learned how consistent we can be or that we just got on a good role. We'll find out. Basically, we've got the same club. We always need to stay free of injuries and definitely we need depth with our pitching. We do have the young talent to get that this year."
---------------------------------------------------------------------------------
Last year I attempted to post links to all my stories on the blog each morning. Well, our website has made a lot of very nice upgrades in the last year (you found the blog, right?!) so here's the skinny: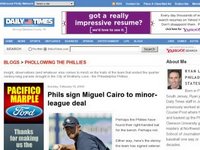 I'll occasionally post links, but you can normally get all of you
one-stop, Phillies-story shopping
done at this address:
delcotimes.com/sports
---------------------------------------------------------------------------------
One more item. General manager Ruben Amaro Jr. and company have obviously done a very nice job this offseason, knocking down all their arbitration-eligible players and sealing multi-year deals with rising stars and soon-to-be free agents.
So realize when you watch this clip, it's all in good fun. It is pretty damn funny.