Stairs swings on a Lazy Sunday
It's home run derby at the ballyard.
Not really. But as I sit in the press box on this lazy Sunday in Clearwater, that's what I feel like I'm watching. Three hulking lefties - Ryan Howard, Geoff Jenkins and Matt Stairs - are taking cuts off minor league coach Jerry Martin. Andy Tracy, who spend some time with the big league club, too, joined the trio for early-morning BP.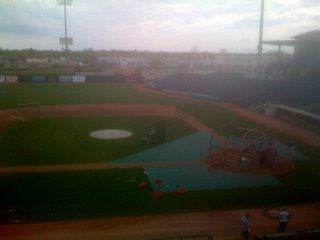 It's Stairs first day in camp. His 10th swing of the spring nearly brought back memeories of Chavez Ravine (Phils fans won't soon forget his game-winning home run in Game 4 of the NLCS against the Dodgers).
An interesting thing to keep an eye on this spring is if the Phils break camp with both Stairs and Jenkins. The team has admitted they're looking for a right-handed bat off the bench, but in order to make room for that guy, they may need to trade a lefty.
(and yes, I took that photo with my phone from the pressbox. not great (no zoom on the iphone), but hey, I'm a writer, cut me some slack).