J.C. Romero: 50-game suspension is "insane, not fair, ridiculous."
Today is a joyous day for fans of Major League Baseball all across the world.
It's the official first day for pitchers and catchers to report to spring training.
Phils pitcher J.C. Romero checked into Camp Clearwater yesterday. This morning, he was in good spirits but still not happy with the ruling that will leave him out of the Phillies bullpen until June 1.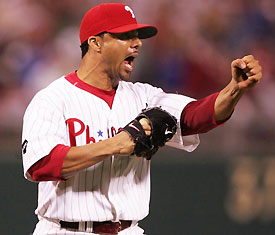 Last month, Romero received a 50-game suspension for failing a drug test last summer. Romero took a supplement he bought from a GNC store, without realizing it contained an ingredient not kosher with MLB's drug policy.
Worse, the ingredient was not even on the product label.
Romero met with the media for the first time since the incident this morning. Read more in tomorrow's Sunday Times for the complete Romero story, but here's a little taste of what J.C. had to say:
On length of suspension:
"It's ridiculous. I keep saying it. I don't think I should be suspended 50 games. It doesn't make any sense to me. They have some rules they have to follow, and it's very unfortunate that I have to be the one paying the price. In my mind, I think it's insane. I think it's unfair. I'm being, they say, negligent, but then I'm being accused as somebody who takes steroids. That doesn't fly too well. But it is what it is."
On being told last spring that stuff bought at GNC were okay to use:
"Since all this mess started, that's what they make sure they emphasize to us. I think to the Latin players, the simple fact was they (said) they weren't responsible for the supplements that you buy in Puerto Rico, Venezuela, Dominican Republic, so I guess that's why they wanted us to make sure we buy it over here in the states. Before this case, they didn't have any reason to believe that somebody could test positive offer supplements bought at GNC, Vitamin Shoppe, etcetera."