Burrell hurt/Playoff predictions
Pat Burrell left batting practice today with a stiff lower back. His status for Wednesday's Game 1 with Milwaukee likely won't be known until the morning.
But don't get down, Phils fans. Here's a playoff preview (someone asked me to do one for another website, I'll post here when I find out).
NLDS, Dodgers vs. Cubs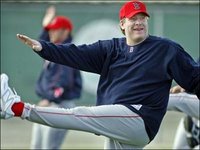 Cubs in 5
Carlos Zambrano, not good. Everyone else on the Cubs, good. Manny is Manny and underrated Dodgers nearly get the Cubs' goat.
But the magic of Wrigley prevails, even if
Captain Curt
doesn't believe in those high class strippers Mystique and Aura. (Personally, I think they're kinda hot).
NLDS, Phils vs. Brewers
Phils in 4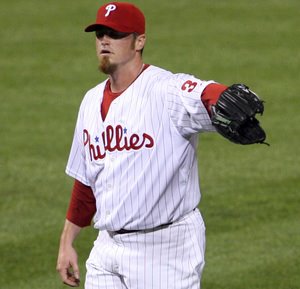 Milwaukee's best look like Phils Version '07. Cole Hamels, good.
Brett Myers
, not so much - but Happ to the rescue. Joe Blanton, yikes. Phils bats, however, batter Brewers pitching staff that's 11 CCs short of respectable.
ALDS, Red Sox vs. Angels
Angels in 4
Boston too banged up for this prognosticator's liking.
J.D. Drew
is hurt, huh. Really? REALLY? Josh Beckett too? No.... I like the Sox pitching anyway, but Delco's best manager (
Mike Scioscia
) likes the idea of an all-LA World Series, so he can stick it to the Dodgers, who had zero interest in hiring him and have hired 43 managers since. Angels pitching, good.

ALDS, White Sox vs Yankees...err...my bad, no New York teams made it this year. Sad.
White Sox vs. Rays
Sox in 3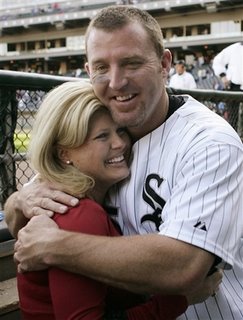 I like the Rays, I really do. But can you pick against
Jim Thome
. He's a nice fella. I'm not picking against that guy. I'm watching him on TV now. He's just... NICE. White Sox bullpen, good. Despite the play of the best third baseman in baseball, Evan Longoria, Rays are deer in headlights.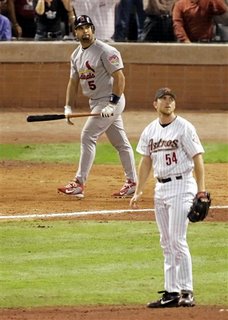 NLCS, Cubs vs. Phillies
Cubs in 7
I feverishly begin writing my Game 1 World Series preview - 'Say Hello to 17-game winner Gavin Floyd' - in hopes of a Phils-Sox series that would have more story lines than a soap opera starring Lindsay Lohan and Brett Favre. But the Cubbies send me to an early vacation, and I raise a few Old Style Lights in Wrigleyville.
Brad Lidge
blows Game 7 win by serving up walk-off homer to Alfonso Soriano.
ALCS, White Sox vs. Angels
Sox in 4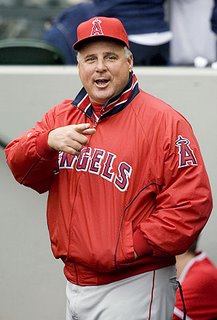 Sorry, Scoscia
, Dodgers are dead. So is your team, which hasn't had much of a pulse since clinching the division in June. White Sox ride the Rockies-like wave, clinching at the very last moment and running off on a win parade, which is scaring the Bartmans out of the North Siders. Chants of "1908, 1908" begin as riots begin when Sox fans invade Wrigleyville. Phils, BBWWA-accredited beat writers watch as a certain Phillies.com writer gets bloodied in the battle. Fun times.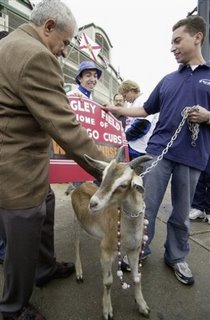 World Series, Cubs vs. White Sox
Sox in 7
The White Sox come in with a 10-game winning streak. While Fox is showing constant highlights of Bartman and
the goat
(the goat also likes Old Style Light, apparently), there is a growing group of baseball fans that are suddenly sick of the idea of the Cubs collecting their first crown in 100 years. Jim Thome is a nice guy, damnit.... and this Griffey character also seems swell. Two Hall of Famers who don't need to go down like Ted Williams.
Sox win first game, sending The Cell's crowd in a frenzy. But Cubs take next two, ending the 11-game win streak and slowing the suicide rate on the North Side for a weekend. After Floyd evens the series up, Rich Harden fires a two-hit shutout - Cubs up 3-2 in the series.
But Fox's
Jeanne Zelasko
somehow allows the goat to escape in an exclusive, Game 6 pregame interview outside The Cell. The goat takes off, hops on the 'L' and gets off at the Addison stop.
The goat slips a five-spot in the drunken security guard's hand (the guard thought the Cubs already won the whole shebang). The goat is on the field! The goat it on the field!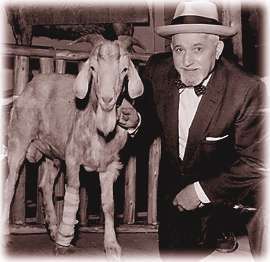 While the goat begins eating the ivy off Wrigley's hallowed walls (can walls be hallowed?), a sure-fire Jim Thome double-play ground ball goes right through Ryan Theriot's legs in the 7th inning. The Cubs 4-1 lead shrinks to 4-3.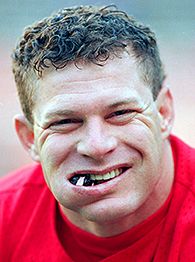 The goat ate too much ivy. Not good. The goat leaves a special gift (it's browner and smellier than the remnants of that stuff
Len Dykstra
spit up here 15 years ago).
At the same time, Griffey takes Kerry Wood deep in the bottom of the ninth. White Sox win, 5-4.
That was just Game 6.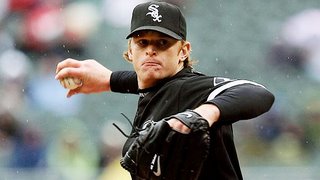 In Game 7, the Cubs are inconsolable after WGN runs highlights of the famed goat defecating on their field.
Gavin Floyd
throws first career no-hitter to clinch Sox's second World Series title in three years.
(this is strictly for entertainment purposes.... please do not bet on the goat crapping. he might hurl instead).