It looks like the Phils might miss Chipper
I just arrive in Atlanta (sorry no blog yesterday, the 5 p.m. start time through off my routine).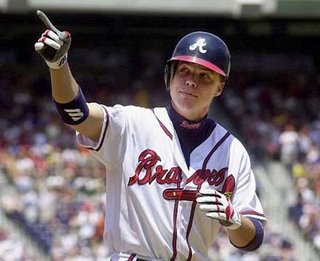 I just read how
Chipper Jones
, who has been impersonating Ted Williams this year,
could be headed to the DL
. This, of course, is welcome news for the Phillies as they get ready to play a three-game series with the Braves Tuesday.
(Note: They don't wish injury on anyone, of course. But it helps their chances to win when a guy hitting .394 can't get penciled into the lineup).
--------------------------------------------------------------------------------------
There should be a decision on the fate of Brett Myers' next scheduled start within the next 24 hours.
My educated guess: the Phils skip Myers, for at least on start and quite possibly longer (the all-star break), and give Chad Durbin a look in the starter's role.
The Phils like Durbin in the pen, but if Myers can find his groove in the pen, it may be a win-win tradeoff. Again, that's speculation.