The very moment things clicked for Brett Myers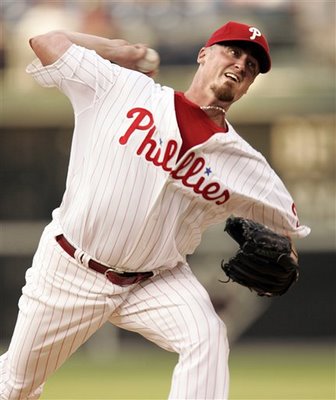 It was as crystal clear as a perfectly, cobalt blue sky on a warm summer day.
Brett Myers
had already struck out the first two batters of the inning when Hanley Ramirez, one of the scariest offensive threats in baseball, stepped to the plate.
But Myers retired the talented Marlins lead-off hitter with a pair of back door fastballs on the outside corner. If striking out the side wasn't enough of a clue, and finishing it off with Ramirez, Myers did a small but significant, celebratory skip as he trotted down from the mound.
In a game where confidence is as important as skill, Myers was feeling very good about himself again. If he goes on to enjoy a successful, turnaround season, that sequence - striking out Ramirez - should be circled on everyone's score books as the moment things finally began to click for Myers.
-------------------------------------------------------------------------------------
THE ARCHIVE FILES
The
game story
from last night highlights that watershed moment, along with the same old, same old - the Phils' offense is apparently pretty good.
In the notes, the top two second baseman in baseball, at least through 8 weeks, are on display at Citizens Bank Park this weekend.
Phils skipper Charlie Manuel threw some very high praise
on his own second sacker.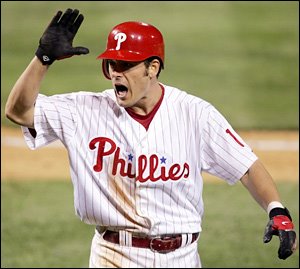 From Thursday's off-day --
the Phils have been baseball's best team in the pinch
, led by the unconscious
Greg Dobbs
.