Baseball's best holiday - Opening Day (now with links, too!)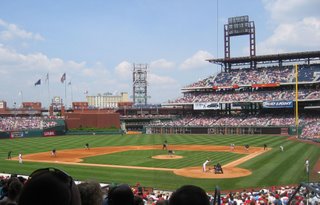 Hope springs eternal on the first day of the season - Opening Day.
It's a shame the day gets cheapened or trumped a tad with trips to Japan and Sunday Night ESPN games, but let's face it - none of those days were "Opening Day."
Today is the one day every team takes the field and feels like they can compete. Even the Pittsburgh Pirates.
It's also the day you can officially erase the previous season. So even though a gigantic 2007 flag, signifying the NL East division title, is twirling in unison with the American flag over Citizens Bank Park right now, it's 2008.
Last year, and the Phils title, is in the past.
What the future holds begins in about three hours... should be fun.
Here's your Opening Day Phillies lineup:
1. Jimmy Rollins, SS
2. Shane Victorino, CF
3. Chase Utley, 2B
4. Ryan Howard, 1B
5. Pat Burrell, LF
6. Pedro Feliz, 3B
7. Jayson Werth, RF
8. Carlos Ruiz, C
9. Brett Myers, P
-------------------------------------------------------------------------
I forgot to post the all-important
Archive Files
earlier...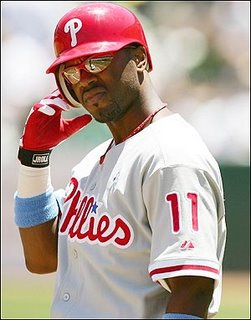 The reigning National League MVP has maintained a low profile this spring, but that didn't stop us from catching up with
Jimmy Rollins, AKA the Phillies "Joe Cool."
Also, here's a flurry of "five questions" than ran in today's print edition regarding the start of the season:
Five Reason the Phillies will repeat as National League East champions:
1. The bottom of the rotation finds someone who can fill the Kyle Kendrick role of 2007 – good enough to keep them in games and prevent your offense from having to play catch-up all the time.
2. Ryan Howard heats up down the stretch and a dozen of last year's strikeouts turn into home runs to the opposite field, as he did in 2006.
3. Cole Hamels stays healthy and reaches his goal of 35 starts while Brett Myers matures into the dominating starter he was in spring training.
4. When/If Kendrick or Adam Eaton's struggles make them impossible to keep in the rotation, management makes a push to acquire a veteran starter (Joe Blanton?
Kyle Lohse
?).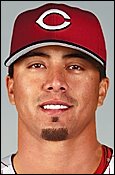 5. Either the Braves or Mets have a key injury or two, or a lack of production from a key cog. Example:
Johan Santana
pitches more like the guy who allowed 33 home runs last year (three more than Adam Eaton) and less like a two-time Cy Young award winner.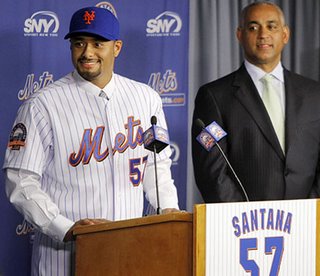 Five reasons to Phillies will fail to repeat as National League East champions:
1. If they start slow in April, with no sense of urgency and use the logic, "We caught up last year, we can do it again this year."
2. Jimmy Rollins and Shane Victorino under-perform. Everyone in the lineup plays their part, but if the top two guys aren't getting on base, the team won't lead the league in runs again.
3. They can't beat their division rivals like they did last year. In 2007, the Phillies went 24-30 against NL East foes including 23-15 against the Mets and Braves.
4. If the back of the rotation struggles and the team opts to make a move from within, hoping to get lucky again with a minor league pitcher (Andrew Carpenter) who turns out not to be ready.
5. Brett Myers missed two months with an injury last year. They won't win if he misses that much in 2008. Same goes for three other indispensables – Jimmy Rollins, Cole Hamels and Brad Lidge.
Five fearless Phillies predictions:
1. Brett Myers makes his first all-star team and hears his name in Cy Young Award talk.
2. Jimmy Rollins' home run production goes down (20) but he steals a career-high 50 bases.
3. Pat Burrell and Geoff Jenkins will struggle at the same time and
So Taguchi
fills in as a starter for a stretch.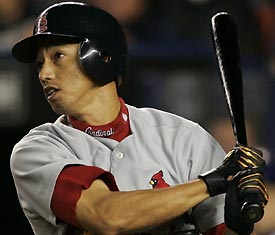 4. The catching combo of Carlos Ruiz and Chris Coste combine for 20 home runs and 80 RBI.
5. The team will wish it spent the $5 million they owe Jenkins in 2007 on Lohse, who is being paid less, $4.25 million, by the Cardinals.
Five ways the Phillies avoid another slow start:
1. Both Myers and Hamels eat up innings and pitch the team to wins in the majority of their starts.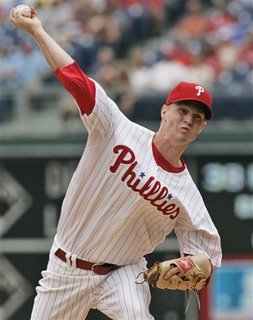 2.
Kyle Kendrick
and/or Adam Eaton rebounds from a poor spring training and gives the team quality starts.
3. Jimmy Rollins, who hit .297 with 15 extra base hits – including nine home runs – in March and April of last season and Ryan Howard, who hit .221 with three home runs in same span, both start hot.
4. Tom Gordon rebounds from a tough spring and doesn't blow more than one save while the team waits for Lidge to return from the DL.
5. They win today and take at least two of three from the Nationals in the series. If the opposite happens, it could start that familiar, downward spiral.