On the road (with Myers update)
BRADENTON, Fla. -
Brett Myers
threw three innings, allowing one earned run while striking out three and walking none, in the Phillies B-game at Pirate City in Bradenton this morning.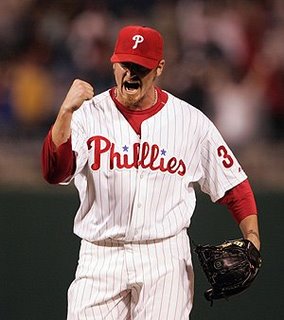 It was Myers' first start since April 13. The hard-throwing right-hander was moved to the bullpen, and eventually the closer's role, after just three starts in 2007.
Myers said he was feeling fine and healthy afterward. He may have even dropped the most popular cliche in spring training, "I'm just getting my work in."
The 27-year old-allowed five hits but struck out the final batter of each inning he pitched.
Myers, who was recently named the "ace" of the rotation since he'll get the start on Opening Day, had his two-year old son, Kolt, in tow. The younger Myers appears to have as much energy as his dad - he wore No.39's glove and imitated players, throwing and catching while his dad talked to the media.
Word has it Kolt also throws a decent fastball for a 2-year-old.
----------------------------------------------------------
From earlier this morning...
CLEARWATER, Fla. - I'm writing this from my place in Clearwater, but for the first time this spring we'll be watching baseball in a place other than Bright House Field.
We're off to Bradenton, spring home of the Pirates. Brett Myers is pitching in the B-game (which should begin around 10 a.m.); J.D. Durbin will start the 1 p.m. tilt.
I'll try to post something later during/after the games - I'm still getting adjusted to the new schedule since games have started. Should news break, you'll still find it here when it does.
----------------------------------------------------------------
Joe Savery and Josh Outman, whose names you hear about as often as Jimmy Rollins and Ryan Howard this spring since they are considered prized pitching prospects, got roughed up yesterday. I can't find the link to post.
But here is one man's observation: both Savery and Outman, left-handers, threw hard. They've got live arms.
I didn't get to see Outman pitch as much (the locker room was open and we were talking to Kyle Kendrick and Savery while Outman was on the mound); but Savery impressed me despite giving up back to back singles to begin the fourth inning.
He nearly escaped the jam and didn't appear shaken up during an inning in which he yielded five runs. If he has the poise of a Kyle Kendrick or Cole Hamels, that and his live arm will help him climb quicker through the minor league system.
-----------------------------------------------------------------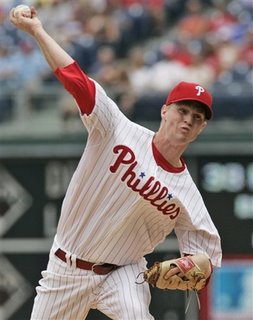 Speaking of
Kyle Kendrick
,
it's been one, wild, whirlwind of a trip for him in the last year
. He's gone from uninvited minor leaguer to major league mainstay.