Will the entire roster be announced tonight?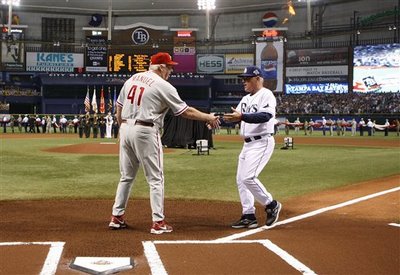 I came across a very interesting story late last night on ESPN.com, something that admittedly, something I didn't realize (along with the rest of the regular beat/Philadelphia writers).
The Phillies weren't very happy that MLB and FOX cut out the long tradition of announcing the entire rosters from both teams before Game 1 of the World Series. Kudos to ESPN.com's Amy Nelson
on this story
.
I'll try to find out more about this today, and will see if the Phils efforts will pay off in having both teams rosters announced tonight in the first World Series game at Citizens Bank Park.
All I can say is MLB and FOX need to get their respective heads out of their behinds: in their convoluted world, the
Backstreet Boys
(whose popularity ran out last century) are allowed to sing a 14-minute version of the national anthem, but Jamie Moyer can't hear his name announced before Game 1.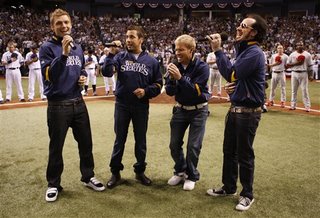 If MLB and FOX are so concerned about "timing," perhaps they should have first pitch at 8:07 and not 8:37.... any baseball fan under the age of 15 simply can't expect to be able to stay up past midnight on a school night.... and, for the love of God, veterans like Jamie Moyer deserve to hear their name over the P.A. system.