NLCS: Game 5 lineups
The Dodgers are in must-win mode. Here is the lineup they're trotting out tonight against Cole Hamels:
1. Rafael Furcal, SS
2. Andre Ethier, RF
3.
Manny Ramirez
, LF
4. Russell Martin, C
5. James Loney, 1B
6. Casey Blake, 3B
7. Matt Kemp, CF
8. Blake DeWitt, 2B
9. Chad Billingsley, P
Here's the Phils lineup:
1. Jimmy Rollins, SS
2. Jayson Werth, RF
3. Chase Utley, 2B
4. Ryan Howard, 1B
5. Pat Burrell, LF
6. Shane Victorino, CF
7. Pedro Feliz, 3B
8. Carlos Ruiz, C
9. Cole Hamels, P
Since they'd like to close this thing out before heading back home tonight, I wouldn't be surprised if the Phils completely stay away from Ramirez. He's hitting .500 (11-for-22) this postseason with three home runs, two doubles and nine RBIs.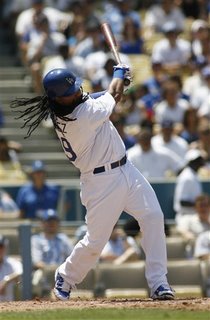 While the Dodgers haven't played great this series, Manny has certainly been Manny - one of the best all-time playoff performers - and the Phils simply can't let him beat them tonight and give L.A any life.