It's over... and all of the Daily Times stories (that may or may not be in your paper)
The marathon that was Saturday night (Sunday morning) at Citizens Bank Park is over. I think.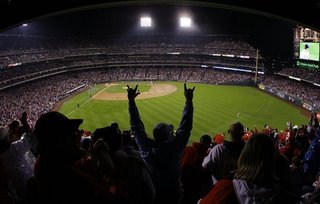 But here we are. Back at the bank, 12 hours after arriving home from a long, strange trip at the park for Game 3.
The wild way the game played out - the Phils cough up 4-1 lead, only to rally back to score a run in the ninth without a hit that rolled any further than 40 feet - overshadowed a bigger story. The Phils are in excellent position to capture the franchise's second World Championship this week.
They have a 2-1 series lead, which is a pretty big deal when Cole Hamels is on tap to pitch tomorrow (Monday).
If Joe Blanton gives the Phils a quality start and the bats get hot (they're still 2-for-33 with runners in scoring position), they can go into tomorrow's game with their ace on the mound in a possible World Series-clinching game.
You really would have to like your chances there...
----------------------------------------------------------------------------------
Here's the scoop from the Daily Times, Sunday edition, with stories that may or may not have made your paper (due to deadline issues/last night's last start):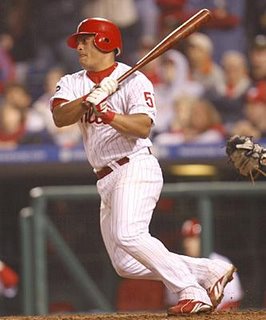 Carlos Ruiz

earns redemption
in a wild, marathon night at the ball yard.
Here's
a smattering of what the victorious Phils were saying
postgame in the wee hours of the morning.
Jamie Moyer

waited 22 years
for Saturday night, and then delivered for the Phils.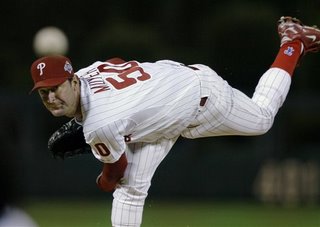 E-Commish:
This

Bud

's a dud
.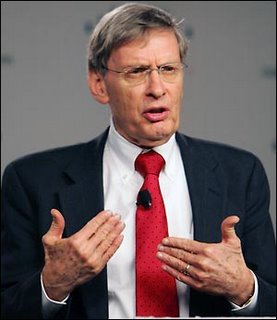 You want more on the commish? W
e've got more on the commish's night
in South Philly.
One other complaint on the commish's agenda: t
he Phils aren't happy that a popular pregame tradition
has landed on the cutting room floor.
Hey look -
it's Albert Pujols
. He was at the Bank to collect an award... but it wasn't the NL MVP, which he may have to wrestle Ryan Howard for in another two weeks.
You want pictures?
We've got pictures
from last night's win.