It's all Happ-ening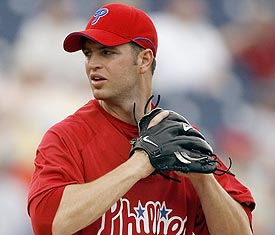 Through five innings,
J.A. Happ
has made the Phillies look pretty good.
Picked to take Kyle Kendrick's spot in the rotation a day earlier, Happ has a three-hit shutout going. Not bad for a rookie in his fourth big league start, even if he bombs out here in the last few innings.
When asked about Happ, Phillies pitching coach Rich Dubee always goes back to Spring Training, when he felt the minor-league lefty began to mature into a pitcher sure of his stuff.
Here's a look at how Happ
was looking at things back in February in Clearwater.