Manny in Philly?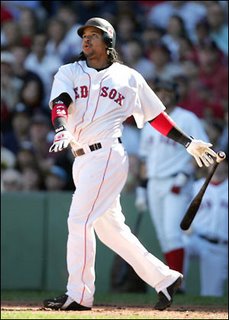 I wrote about this Sunday
(below the Rollins stuff), before mass speculation began that unhappy Red Sox slugger
Manny Ramirez
was being linked to the Phillies in trade talks.
But the rumors won't go away. SI.com is reporting that the Phillies, Marlins and Dodgers are the front-runners to land Manny, whose recent bout of petulance has thrown off Boston so much, they've only won one game in their last five.
But just how would Manny fit in Philly?
The talk of sending
Pat Burrell
to Boston is ludicrous. How would sending your most consistent offensive player this year to the Red Sox for the possible headache that is Manny benefit your team?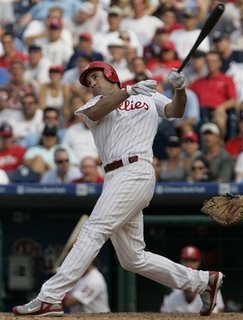 There numbers are too close to want Manny over Pat.
Manny Ramirez -- .301 20 68
Pat Burrell -- .279 26 61
Could the Phillies do a deal for Manny without Burrell? Sure. Jayson Werth and Shane Victorino could be used as bait, along with a minor leaguer or two.
But how would the defense in the outfield look with the slow-footed Burrell and the zany Ramirez on the corners? Not good, right?
I just don't see it working. More power to the Phillies if they pull it off without giving up Burrell or Victorino, who I also think, with his speed and defense, is crucial to this team's success this year.
I just think Manny to Philly is a longshot at best. I wouldn't be shocked if he ends up with the Marlins.