A winning Howard still smiling
Ryan Howard is a winner. And he wore a winner's smile - a little brighter than the one he flashed after the arbitration hearing yesterday - for the cameras today.
That's because it's no longer a $900,000 smile. It's a 10 meeillllllllllion dollar smile (please read that as if you were Dr. Evil).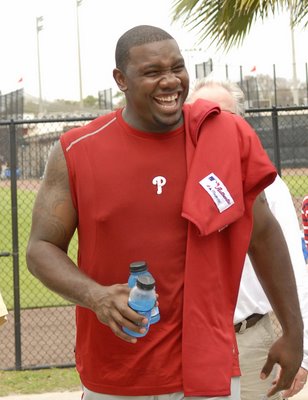 The $10 million man spoke about his big win. He honestly didn't say too much. But here are some highlights.
His reaction on winning:
"My reaction is mostly relief, now that the whole process is over. It was an interesting process, but it's a relief; it's always a good to win. Anyway you look at it is a win-win because it's a substantial raise either way."
On whether he foresees going through the arbitration process again next year:
"Well I guess we'll have to wait and see. I'm not Miss Cleo, I can't predict the future."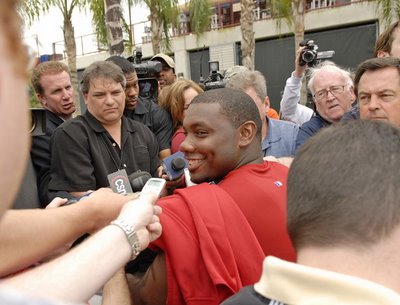 On his confidence level that a long-term deal can get worked out with the Phillies:
"My confidence level, it's pretty good. I can't control what might potentially happen down the road, right I'm focused on '08. All of that stuff will take care of itself when it does."
On whether he sees himself finishing his career with the Phillies:
"It would be nice. Yeah it'd be nice. It's one of those things we'll have to wait and see what happens."
* * *
Special thanks to Delco Times photographer Eric Hartline for the high-quality photos.
* * *