Spring has Sprung - GAME UPDATE
I realize this game is meaningless - in terms of a win or loss - in the grand scheme, but since I know there are a lot of folks in Philly dying for any baseball right now, I'll run through a little play-by-play, game-updates from today's spring training opener.
1st inning
- Both teams are retired in order. Jamie Moyer appears to be in midseason form - I can't say the same for most of the media.
2nd inning
- Moyer's perfect game bid ends six batters in when Jay Bruce, recently tabbed as the top prospect in baseball by Baseball America, singles. Two batters earlier, the Phillies ageless lefty unleashed a 32-mile per hour curve ball to ake Reds slugger Edwin Encarnacion look silly.
In the bottom of the inning, 10-million-dollar man Ryan Howard led off with a double, moved to third on a Pat Burrell single and scored when Geoff Jenkins grounded into a double play.
1-0 Phillies.

3rd inning
- Moyer ends his day with his second 1-2-3 frame. His final line: 3IP, 1H, OER, 0BB, 3K. Not too bad for the oldest guy in all of baseball.
5th inning -
Geoff Jenkins
and Pedro Feliz hit back to back doubles. 2-0 Phillies. The two, newest Phillies bats are 3-for-4 today. Not a bad way to earn fans in your first day in red pinstripes. After a weak Wes Helms groundout (he's 0-for-2), Carlos Ruiz knocked an RBI single to right.
3-0 Phillies
.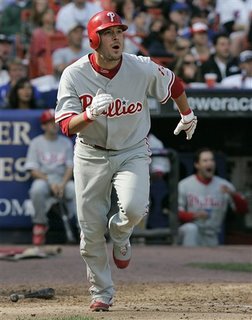 ...okay, this game has officially ventured into blowout in quick fashion. The Phillies are still hitting in the 5th inning.
Greg Dobbs
, a spring training stud last year, just launched a 3-run home run out of the park in right to cap a seven-run inning.
8-0 Phillies
.
By the way, it's still COLD here. Although it did just climb from 52 to 53 degrees. Brrrrr.
---------------------------------------------------------------------------
Jamie Moyer
, who started the Phillies last postseason and regular season game of 2007, threw the first pitch of the 2008 spring exhibition season today.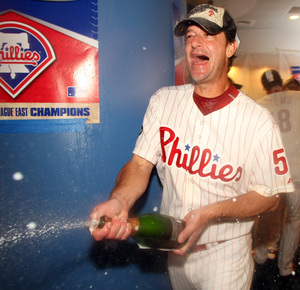 Fastball, down the middle, to Ryan Freel, for a called strike. It came at 1:10 p.m. under a cool and overcast sky in Clearwater.
It's a crisp 52 degrees. It almost feels like October.
But it's February and the spring season has officially started. Moyer struck out Freel swinging and retired the Reds in order.
If you're starving for baseball and you'd like to listen in, log on to Phillies.com for MLB audio (I was told Larry Andersen and Scott Frantzke are calling the game).